Who is Retired FBI Agent James Fitzgerald's wife after his divorce post Unabomber Case?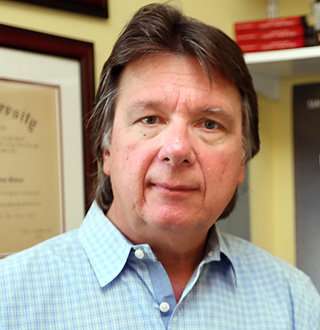 Retired FBI agent James R. Fitzgerald was the man who led the FBI on a 17-year chase for one of the most notorious criminals in modern history—Theodore John Kaczynski (The Unabomber). In his illustrious career, the Philadelphia native conducted many investigations related to extortion, homicide, kidnapping, serial rape, homicide, and serial killing.
With the Unabomber's capture, the two-decade-long terror ended in 1996, but it also took its toll on Fitzgerald's marriage with Ellie Fitzgerald.
Did Fitzgerald catch Ted Kaczynski?
Yes, Fitzgerald, born on 24 June 1953,  played an important role as a criminal profiler at the National Center for the Analysis of Violent Crime (now known as FBI's Behavioral Analysis Unit) in the arrest and conviction of American domestic terrorist Ted Kaczynski, who was responsible for the death of three people and injury of 23 people led by his nationwide mail bombing campaign.
The former criminal profiler made a breakthrough in the case because of his skills in threat assessments and forensic linguistics, among others. 
Fitzgerald could identify that the Unabomber manifesto, a 35,000-word pro-anarchy essay blaming the industrial revolution and technological advancement for natural destruction and loss of human freedom, was written by Kaczynski, and he was the same person responsible for the bombings. 
Fitzgerald used linguistic analysis and determined that the handwritten letters by Kaczynski matched the manifesto.  His analysis helped the FBi and all the collaborating stakeholders in their mission to identify the bomber. He also believed that the bomber was an incel "who didn't have a relationship with a woman in his life."
Ultimately, the FBI arrested Kaczynski on 3 April 1996. However, several experts also believed another individual penned the manifesto. Now, Kaczynski is 80 years old as of writing and serving the verdict of the eight life sentences without parole. He is also known as the Unabomber— the FBI first used the word as an identifier before Kaczynski's identity became public and later used by the media to identify him.
His primary motive for such a heinous crime was to target people he thought were responsible for the destruction of the environment through the advancement of modern technology. He even asked for his Unabomber manifesto (titled Industrial Society and Its Future) to be nationally published in return for him to end his bombings.  
But the Unabomber case hindered James R. Fitzgerald's marriage
But the demanding nature of Fitzgerald's work, especially the Unabomber case, hindered his family. 
His job needed him to travel to various places and stay away from home for days. This had a severe impact on his relationship and marriage with his wife. Therefore, he and his wife divorced after his team solved the case. He revealed the fact on Twitter when a fan asked him about his personal life. There had been many queries from fans about his marital life back then.
I really just wanna know if @JFitzJourney and his wife ever got back together? Or if he ended up with Natalie..... — sarah (@saruhburgess) November 13, 2017
@JFitzJourney quick question regarding post-unabom. Did u get back together with your wife and kids? Or with the lady whos name i forget currently that helped to find the unabombers idiolect? — Aiden (@AidenMarshalol) December 27, 2017
Answering a fan question, Fitzgerald finally revealed in 2018 that he had been divorced from his wife, with whom he had a good relationship. He also added that they were raising their sons together.
James did u ever go back to ur wife and kids? I want to know, there is nothing written about ur personal life after finding the unabomber. — ANGELplz (@NotoriusNormani) January 27, 2018
Unfortunately, my wife and I did divorce post-Unabom. It was very sad & difficult for both of us & our 3 boys. However, we remain friendly to this day. The raising of our sons to adulthood was our primary goal. We succeeded. She's a great person & we have 3 great kids. — James R. Fitzgerald (@JFitzJourney) January 27, 2018
They parted ways on amicable terms and chose to co-parent their children. 
Who is former FBI profiler James Fitzgerald's wife? How many children does he have? 
Fitzgerald married Ellie Fitzgerald in 1976 and welcomed three sons, Sean, Dan, and Ryan. After their divorce, they agreed to co-parent the children together.
The Philadelphia native also has a granddaughter named Natalie Bryan Aloife Fitzgerald from his son Ryan. 
Who is James Fitzgerald's girlfriend-turned-fiancee?
As far as what has been reported, last time we checked, Fitzgerald was engaged to his fiancee Natalie Schilling, a professor in the Department of Linguistics at Georgetown Univeristy.
The Ph.D. academician helped Fitzgerald when analyzing Kaczynaski's writing. She has expertise in forensic linguistics and American English dialects and specializes in the study of stylistic, ethnic, and gender-based variations of texts and symbols. 
Was Fitzgerald's fiancee Natalie featured in the Discovery Manhunt series?
If you don't know, there was also a Discovery Channel miniseries in 2017 called Manhunt: Unabomber, a fictionalized version of the real-life FBI's chase of the Unabomber and the related events. The series, in which Fitzgerald served as a consulting producer, featured Fitzgerald in the lead role, played by actor Sam Worthington.
In the series, the character Fitzgerald gets assistance from another character Natalie in identifying the bombing suspect. The plotline also highlights her primary role in determining the age demographic of the manifesto's author. Actress Lynn Collins portrayed her as the character Natalie Rogers.
And after the series went live, many fans speculated if Fitzgerald's real-life partner Natalie Schilling was portrayed as Natalie in the series as their name matched, and she was usually seen in events with the former FBI profiler. 
Finally, in 2017,  Fitzgerald cleared all the speculations regarding Natalie's representation in the show. He also cleared via Tweet reply that the character of Natalie in the series was a made-up character and implied that the closest real-life persona matching the character in real life was "a 65 y/o/a male retired linguist prof."
No dodginess. "Natalie" was a composite character in Manhunt. The closest real life person to her was a 65 y/o/a male retired linguist prof. — James R. Fitzgerald (@JFitzJourney) September 28, 2017
Later, he revealed on 9 April 2021 that his fiancee Natalie was indeed the inspiration behind the character Natalie Rogers in the series. With the statement, it became clear that his fiance Natalie was an inspiration for the development of the character Natalie, but there was no real-life Natalie when Fitzgerald was investigating the Unabomber case.
Did James Fitzgerald and Natalie Schilling get married?
As of writing, though, Fitzgerald and Natalie's news in the media is scarce, and there has been no news of Schilling and Fitzgerald getting married yet.
They were frequently seen in press events of the shows such as Manhunt and Criminal Minds. Their first public sighting was back in September 2014 during a Criminal Minds press event.
How did Fitzgerald capture Kaczynski?
Theodore John Kaczynski, aka Ted, was a careful domestic terrorist and a mathematics genius.
He never left behind any traces of his mailed bombs that cumulatively killed three people and injured twenty-three between 1978 and 1995. But he did purposely leave behind misleading clues in them and called them his manifesto.
The detailed study of the manifesto then led to the uncovering of the criminal mastermind.
Fitzgerald deduced specific facts about the cold-blooded murderer from his manifestos, such as the fact that the Unabomber was 'obsessively careful' in writing, frequently causing minor mistakes, like a coma after a sentence or the exclamation mark that was supposed to be a question mark.
The findings were publicized on national television for the world to see.
Eventually, Ted Kaczynski's sister-in-law recognized the writings and revealed his identity to the FBI. Her husband didn't believe her initially, but the term that finally convinced him was a quote, "cool-headed logician," a phrase Ted used during his college days.
After successfully locating his cabin, Kaczynski was arrested on 3 April 1996. He serves eight life sentences in prison without the possibility of parole.
What is Fitzgerald doing now? Where is he now?
After the famed capture, the FBI profiler helped develop training programs and tools to improve the FBI's threat assessment capabilities. He also remained relatively off the media radar, going only as far as to work as a consultant in media productions of crime series such as Criminal Minds and Sleepy Hollow. He was also involved in forensic linguistics at the Academy Group. 
Since 2017, the author of the book 'A Journey to the Center of the Mind' has been focusing on language-related profiling at his own company James R. Fitzgerald Associated, LLC. He currently lives in Cape May city in, New Jersey.
In 2021, Fitzgerald donated 6000's pages of his work on the Unabomber investigation to the Pennsylvania Center for Investigative and Forensic Sciences at California University of Pennsylvania.