Is Kasey Kahne Married? How Is He Raising His Son With His Ex-Girlfriend?
Former NASCAR and dirt track racing driver Kasey Kahne is co-parenting his son with his ex-girlfriend, Sammy Sheets.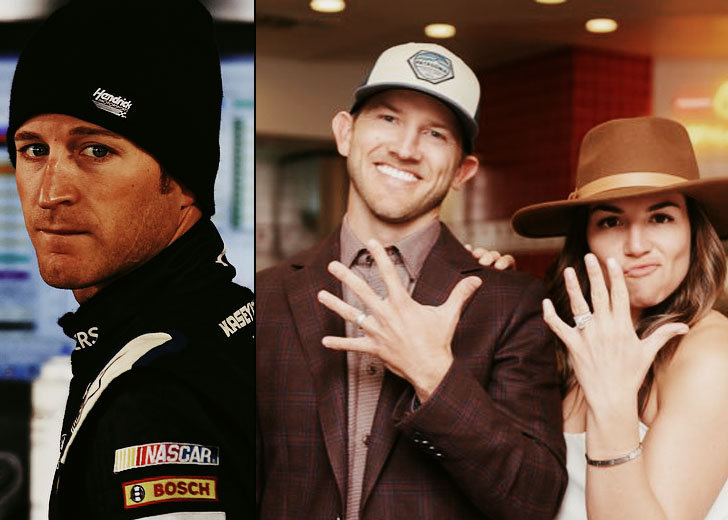 Former NASCAR and dirt track racing driver Kasey Kahne retired from racing in 2018. Since his retirement, he has been spending more time with his son, Tanner Lee Kahne, and maintaining an amicable relationship with his ex-girlfriend, and Tanner's mother, Sammy Sheets.
Contrary to popular belief, Sammy Sheets is not Kasey Kahne's wife. They've never been married. The Enumclaw native was previously in a relationship with Sammy Sheets. They broke up somewhere between 2015 and 2018. 
When was Kasey Kahne's Son Tanner Lee Born?
Tanner Lee Kahne was born on October 13, 2015, to Kasey Kahne and his girlfriend at the time, Sammy Sheets. Kahne announced the birth of his son on Twitter later that same day. He wrote on the tweet:
I officially became a dad at 1:11 AM to Tanner Lee Kahne. Mom and tanner are doing great. On no sleep but we can't put this little guy down...
A few days later, on October 16, 2015, father Kahne also posted an adorable picture of Tanner on his Instagram. In the post's caption, he wrote, "so peaceful | so special, Tanner Lee Kahne."
Kasey Kahne Always Wanted a Kid
In June 2015, a few months before the birth of his son, the former racer Kasey Kahne shared his excitement to become a father while speaking to ESPN. He said, "I've always really wanted a kid. Absolutely."
He also admitted, then, that he had dreamed of becoming a father by the time he was 25. And, even though he couldn't quite fulfill that dream, he was still ecstatic about finally becoming a parent.
When I was growing up, I thought I'd have kids by the time I was 25. We're 10 years past that now, of course. But once we found out, I realized how badly I wanted kids."
Kahne further expressed that he was thrilled to experience that kind of life-altering situation. "I'm really excited to have this type of life-changing experience, and I can't wait to be the best dad I can possibly be," Kahne explained.
Is Kasey Kahne Married? How is His Relationship with Sammy Sheets now?
Presently, Kahne has not revealed anything regarding his married status or his relationship. But he was formerly in a relationship with Sammy Sheets, with whom he even welcomed his first son Tanner.
Talking about the former couple's split, the two separated a few years after welcoming their firstborn into the world, sometime before 2018. 
However, on May 26, 2018, when someone questioned Sheets about her relationship status with Kahne on Twitter, she clarified and confirmed through a tweet reply that they weren't together at the time. She said:
What a nice fan you are...not. Don't really know where you've been but Kasey and I aren't together as a couple but we are together as parents. We do an incredible job raising our son and the proof is in Tanner. Exactly my point though, your rude comment wasn't necessary at all. — Sammy Sheets Fraser (@SammySheets) May 26, 2018
This, along with a few more tweets prove that their split was amicable and that even though they broke up, they were still putting their son first.
On 17 June 2019, Sammy took to Twitter on the occasion of Father's Day where she was posing with Kasey, Tanner, and another man, who was her then-new boyfriend Billy Fraser.
The caption of that picture perfectly summarized how the three felt parenting Tanner together.
Happy Father's Day! We may not have a traditional family dynamic but our blended family is perfect for us! Tanner is super lucky to have an awesome dad and bonus dad. Plus, the dads are cooler because they say "yes" when I say "no."
Even people on Twitter are impressed by the way they co-parent Tanner. One user named Kayla said,
Sammy and Kasey are coparenting goals! Seriously they spent Christmas together with her husband but did so for their son! This is what it means to put your kid(a) first. A lot of people need to learn from them.
Is Kasey Kahne Married?
After the amicable split with Kasey Kahne, Sammy Sheets started dating Billy Fraser. We do not, however, know when they actually started their relationship.
Then, after a while, the couple got married. They exchanged their vows on November 11, 2019.
Going by the pictures of the wedding that Sheets posted on her Twitter a day after their wedding, the couple exchanged vows on the top of a cliff. Then, Fraser was dressed in a blazer and casual shoes, whereas Sheets wore a beautiful white gown.
As for Kasey, he hasn't made an official disclosure about being in a relationship with someone after his separation from Sammy.