Iliza Shlesinger Shared Some Nuggets of Wisdom about Weddings on Her Netflix Special 'Unveiled'
Iliza Shlesinger talked about her husband, getting hitched, weddings, and what it's like being a newlywed on her Netflix special 'Unveiled.'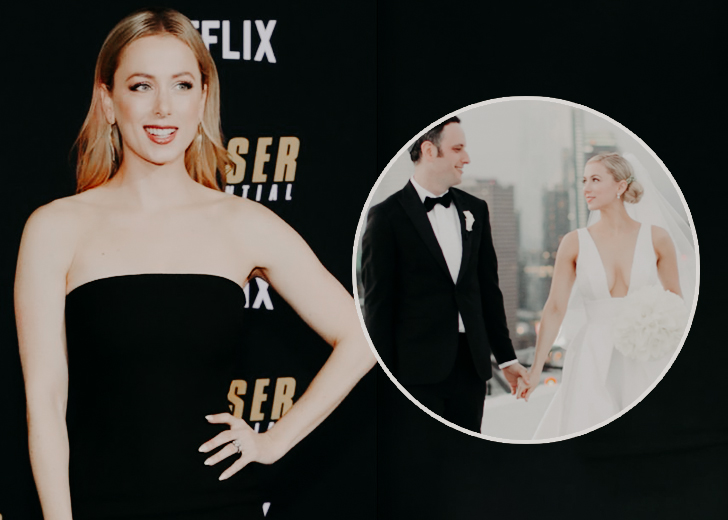 Comedian Iliza Shlesinger performs to sold-out crowds internationally, thanks to her relatable skits covering relationships and feminism. 
Shlesinger, who got married in 2018, also has a Netflix special, Unveiled, where she shared her own experience of getting hitched, the wedding shenanigans, and what it is like being a newlywed. 
Her take on Wedding Topics
In the Netflix special, the newlywed bride discussed various topics from engagement to wedding day to honeymoon. She ardently revealed that her on-stage comedy is more or less influenced by the real events she has been through.

Iliza Shlesinger and husband Noah Galuten wedding ceremony in Las Vegas (Source: Brides)
Shlesinger tied the knot with restaurateur Noah Galuten on May 12, 2018. Following her marriage, the comedian addressed and poked fun at several wedding-related issues based on the reflections of her wedding in the show Unveiled.
The American host begins the series of wedding advice by humorously mentioning that the wedding industry is there to empty your pockets and pit people against each other.
Shlesinger further said that she paid for her own wedding and did things that made her happy. She added her own experience, saying that she didn't wear a veil despite the social and cultural tradition. 
Her advice associated with this was simple as she joked about making the groom wear the veil and letting the bride enjoy a 360-degree view. 
Answering the Most Googled Wedding Questions
In a video uploaded on November 22, 2019, Shlesinger answered the most googled questions about getting hitched.
Being the self-proclaimed marriage expert, the comedian was hilarious with her sarcastic answers. 
There are definitely people out there pondering whether they have to invite all of their co-workers to your wedding or not. This was one of the commonly asked questions on the internet too. To this, the talented television host replied, "no." She put forward that those who really care would understand, and you can let the rest hate you. 
The color of the wedding dress was another query on the internet. Shlesinger logically and rightfully answered that you could wear whatever you like, regardless of color or clothing type, since it's your day.
In the end, the Last Comic Standing winner confessed that despite all the advice and preparations, something or the other always slips on the wedding day, but that is not the end of the world as you will somehow make it to the other side.