Kevin Hodge Regards Communication As Secret To His Long Married Life With Wife & Kids
"...you have a lot of ups and downs [in marriage]. It's just a matter of sitting down and, y'know, getting through things," Kevin said.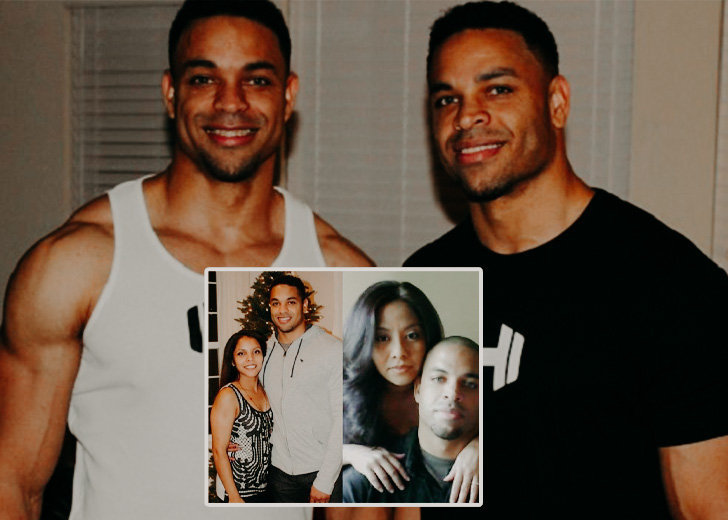 Stand-up comedian Kevin Hodge, the one-half of "The Hodgetwins," along with his identical twin, Keith, is a very secretive guy.
Though earning a lot of fame through his comedy and fitness videos, Kevin is barely seen talking about his family, wife, and children.
Despite that, there are a few details about Kevin's personal and family life that we have managed to collect. So, keep reading to learn about it!
Kevin Has Been Married for Almost Two Decades
The American YouTube star Kevin is a happily married man — and as of now, they have been a married couple for two decades.
It is known that his wife is of Mexican descent, but other details about the comedian's wife is unknown, including her name.
That being said, Kevin has been a very loving husband who never misses an opportunity to appreciate his wife on given occasions [without revealing her identity].
For instance, on the occasion of Father's Day, on June 18, 2017, Kevin, alongside his twin brother Keith, posted a collage picture of them with their wives and thanked them for being both father and mother while they are away on work.

Kevin Hodge and his twin brother Keith Hodge with their respective wives. (Source: The Hodge Twins' Facebook)
In contrast, Kevin's twin brother, Keith, is quite vocal about his family members. His wife's name is Elizabeth Hodge.
Keith is also blessed with kids from his marriage. While having an exclusive talk for 2013's summer edition of Urban Lux Magazine, published on July 1, 2013, he revealed that he and his wife were parents of three children.
At that time, his children were aged 12, 6, and 3, which means they are aged 20, 14, and 11, as of 2021.
In the same interview, Kevin also disclosed that he and his wife had four children at that time, who were aged 17-year-old, 10-year-old, 5-year-old, and 10-month-old.
Going by that, Kevin's kids are 25, 18, 13, and 9-year-old, presently.
Secret to Kevin's Long Marriage Is Good Communication
When Kevin was asked what is his secret to his long marriage during an interview with LA Weekly magazine in June 2016, he replied that it was "just communication."
He explained that there would be lots of ups and downs in a married relationship, and it requires sitting down and talking about it sensibly.
"...you have a lot of ups and downs. It's just a matter of sitting down and, y'know, getting through things," Kevin said.
He further added, "I would say communication and compromise."
Details on Kevin's Parents & Family Members
Hailing from Martinsville, Virginia, Kevin was born on September 17, 1975, as Kevin N. Hodge. Though there is not much information revealed about his parents, it is known that his mother was a twin herself.
Unfortunately, his mother died on September 16, 2013.

Kevin Hodge with his three siblings. (Source: Everipedia)
Apart from his parents, Kevin has three siblings: an older sister named Rosalyn Hodge Kidd, an older brother, and a twin brother named Keith Hodge.
Kevin and His Twin Brother Are YouTube Personalities
The American InterContinental University graduate, Kevin Hodge, and his twin brother, Keith, are renowned YouTubers. Together, they are known as The Hodgertwins. 
The twin brothers initiated their career as YouTubers when Keith proposed the idea to Kevin after being fed up with the different full-time/part-time jobs.
Kevin liked his twin brother's idea and created their channel, TheHodgeTwins, on December 22, 2008.
Initially, they began uploading comedy videos, and when their channel started to grow, they made videos on present conditions while also giving their opinions. Slowly and gradually, they added more content topics to their videos—relationship advice and fitness videos.
As of now, the twin brothers are no more strangers in the field of content creation with four YouTube channels to their names—Conservative Twins, askhodgetwins, TwinMuscle, and Hodgetwins Vlogs. All channels, altogether, have more than 6.1 million subscribers and 236 million views.
In addition to that, it is known that after spending several years in video making for their fans, Kevin and Keith are finally stepping into the bigger field and are set to play in television and film projects soon.
The Hodgertwins' Cousin's Kids Nearly Died
Coincidently, the Hodgertwins' cousin's name is also Keith Hodge — and because of that, when their cousin's step-children got injured in a road-rage shooting in April 2019, many of their fans got worried thinking the YouTuber Keith's kids were injured.
But the incident did not include the Hodgertwins' Kevin's kids.
That being said, the Hodgertwins came forward to help their cousin Keith to raise funds for the treatment of his step-children by requesting people via social media to help the kids.
Their request succeeded, as many donors helped their cousin's kids with funds. For instance, Michael Dove of Arkansas, James MacKenzie of Scotland, and Alicia Mumm of Jacksonville told the Martinsville Bulletin via chat messages that they followed the Hodgetwins and simply responded the request for support.