Hannah Kahnwald And Ulrich Nielsen Affair Explained - What Is She Upto & How's Their Relationship Going To Be In Season 3?
The affair between Hannah Kahnwald and Ulrich Nielsen is a build-up of various twists and turns. So, what was their relationship like in the first two seasons? And what is Hannah Kahnwald up to for the final season? Find out.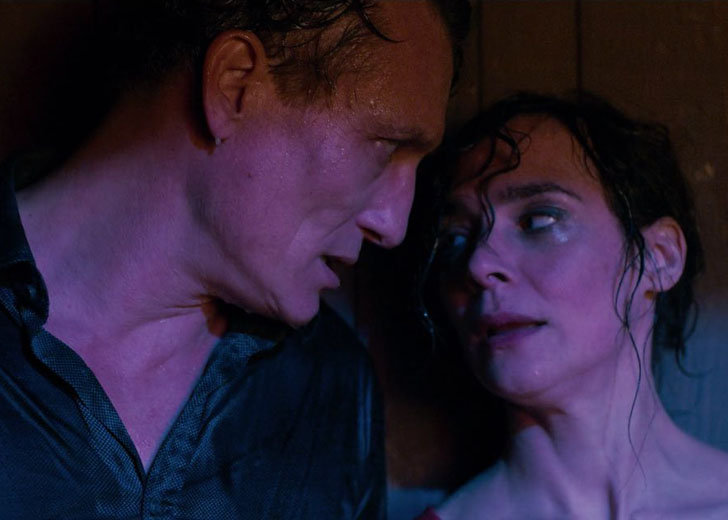 The release date of the highly anticipated and mind-bending German Netflix series, Dark, is approaching near every minute. The viewers of the show have been wondering what will happen in the third and final season regarding the fate of the four main families of the show—Kahnwald, Nielsen, Doppler, and Tiedemann.
The series shows some very complicated family relationships between those four families, among which the relationship between Hannah Kahnwald and Ulrich Nielsen is one to look forward to.
So, how and when their relationship initiated? Let's know all about it through the brief article given below!
Hannah And Ulrich's Affair / Relationship In First Two Season
The relationship between Hannah Kahnwald (born as Hannah Krüge) and Ulrich Nielsen goes way back to their teenage in 1986.

A still image of Maja Schone and Oliver Masucci as Hannah and Ulrich in Netflix's series Dark (Photo: Stefan Erhard/Netflix)
Since their high school days, Hannah had an obsession with Ulrich. But, at that time, Ulrich was already in a relationship with his now-wife and then-girlfriend, Katharina Albers. 
Later, her obsession for Ulrich turned into jealously, due to which she falsified police report and accused him of raping Katharina. Following that event, there was no further information on what happened between Hannah and Ulrich (after 1986). Nonetheless, it was sure that her feelings towards Ulrich remained intact.
As the show shifted from 1986 to 2019, it was shown that Ulrich is a police officer now who has settled down with his long-time girlfriend, Katharina. He also has three children with her—Magnus, Martha, and Mikkel Nielsen. In the case of Hannah, she became a physiotherapist and got married to Michael Kahnwald, with whom she has a son too, named Jonas Kahnwald.
However, Hannah was still obsessed with Ulrich. After Michael committed suicide on June 21, 2019, it was seen that Hannah and Ulrich were having an affair that started just before Michael's suicide on June 20, 2019. The affair continuous and they often met each other secretly.
But, their affair took a whole new path after Ulrich's youngest son, Mikkel, went missing in a weird way. Due to this, Ulrich changed his focus on finding his lost son and thus, ended his affair with Hannah. But, Ulrich's decision hurt Hannah's feelings, due to which she decided to destroy Ulrich's family life and career.
She later knows that Ulrich had traveled back in time to 1954 in search of his son, Mikkel from the year 2019. Hannah, too, travels back in time to 1954, with the help of adult Jonas' time-traveling machine. She travels with a motive to destroy Ulrich's life.
After traveling back in time to 1954, she visited the police station to find Ulrich- meanwhile, Ulrich was kept there as the suspect behind the murder of two children.
At the police station, she also met the young version of Officer Egon Tiedemann. While asked by Egon about her identity, Hannah introduced herself as Ulrich's wife and said her name was Katharina Nielsen. Then, Hannah and Egon go to the asylum where Ulrich was kept. Upon arriving at the asylum, Hannah talks to Ulrich privately and they had some distinctive conversation.
Meanwhile Hannah visited Ulrich in prison on June 26th 1954. She quoted what Jonas told her and didn't help Ulrich (surprise, surprise). pic.twitter.com/NETMqurOE2 — Dark Netflix (@DarkNetflixDE) June 26, 2020
But, Hannah, who had carried the motive to destroy Ulrich completely, denies that she didn't know Ulrich, leaves him there, and says to Egon that there might have been a mix-up. After that, Egon and Hannah leave the asylum.
What's Hannah Upto Now After Breaking Up With Ulrich?
After leaving Ulrich alone in the mental asylum, Hannah and Egon leave the place and both of them head back to the police station. In the police station, it was seen that Hannah and Egon were sitting in Egon's office. Egon passes a cigarette to Hannah and asks if she knew the person named by Agnes Nielsen, as Hannah previously introduced herself as Katharina Nielsen, which she denies with a smile.

Maja Schone and Sebastian Hülk as Hannah and Egon in Netflix series Dark (Photo: Netflix)
Following her denial of knowing Agnes Nielsen, Egon noticed Hannah's suitcase-which had the time machine-and asked her if she was traveling out from Winden. Hannah smoothly replied that she had lost almost everything that she had and was looking for a fresh new start. Upon hearing that, they both lighted up each other's cigarette and smirked at each other, indicating that Hannah would end up with Egon in 1954.
And finally, the doubts were cleared when the new trilogy trailer for Dark was released through Youtube on 20th June 2020. In the one minute 56th second of the trilogy trailer, it was seen that Hannah was sitting in a chair, infront of a mirror, and from behind Egon puts a small metal medallion around Hannah's neck. With this huge scene being revealed, it's for sure that Hannah Kahnwald who disguised herself as Katharina Nielsen settled down with the young police officer, Egon Tidemann, in the year 1954.
What does she do afterward? And will Ulrich Nielsen get away from the mental asylum? Catch up all the events on Netflix, as the final season of Dark unfolds from June 27, 2020.