Gregory Jbara Finally Got To Fly With His Son After Losing Weight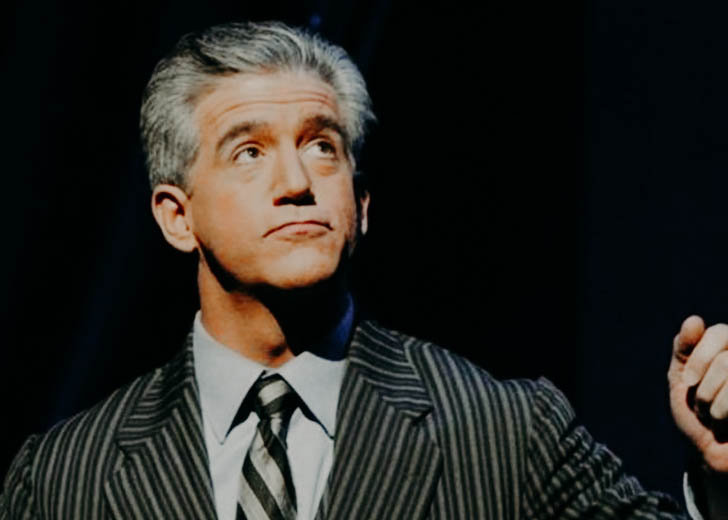 Blue Bloods actor Gregory Jbara was once restricted from boarding a plane because of his weight. But the incident will likely not repeat itself, as the actor has undergone tremendous weight loss.
Know the full story of the incident and also get familiar with his weight loss journey.
Gregory Jbara Kept From Boarding a Plane
The American film actor's eldest son Zachary is a licensed pilot.
When Zachary was on his test flight session, he invited Greg to fly along with him as a birthday gift. The father-son duo went to the Santa Monico Airport of California with other family members.
But, the actor was restricted from boarding the plane. As the plane was a small four-seater with a heavy engine and full fuel, his son's instructor, Nick, advised him not to come aboard. 
The aircraft had everything maxed out in weight, and they didn't want anything to turn south.
So, following the instructor's advice, the Detriot-native stayed in the base and supported his son from the ground.
Gregory Jbara Jump Started Weight Loss After Marin Mazzie's Death
Jbara chronicled his weight loss journey in a Facebook post in October 2019.
In the post, he admitted that he was 268 pounds, i.e., 121 kgs, in early 2018. He got into conversations about his weight time and again. His peers and well-wishers couldn't help but advise him to do something about his weight.
In the end, the Outer Critics Circle Award-winner finally decided to shed extra pounds following American actress Marin Mazzie's death. As an avid supporter, he had followed Marin and her husband when they fought through Marin's cancer.
But, her death made Gregory realize the importance of life. He noticed how health issues could turn fatal at any time and break one's family and well-wishers' hearts.
The Blue Bloods star became aware that taking care of his health was a way to express self-love. So, from September 28, 2018, he got into the "Lose 57 Pounds on my 57th Birthday" diet, thanks to the professional help from a nutritionist, Lilly Padilla.
With dedication and a correct food regimen, the stage artist finally achieved the desired goal, losing 80 kgs by the 58th birthday (2019). Jbara trimmed down to185 lbs (85kgs).

Gregory Jbara's nutritionist, Lilly Padilla, congratulates him for losing 85 pounds within ten months. (Photo: LillyPadilla's Facebook)
Gregory Jbara Is Happy About Weight Loss
Jbara is happy to have been able to shed a substantial amount of fat off his body. The talented Broadway artist even took to social media to express his exuberance over finally achieving his weight loss target.
I am proud to report that as of my 58th Birthday I have lost over 80 pounds, my wife Julie lost 41 pounds (though she didn't need to)...I now feel better than I have in over 12 years.
Moreover, he revealed that the loss of weight has made it possible for him to fly with his pilot son. Sharing about the weight loss in a Twitter post of February 2019, he wrote: "One of the benefits of my oldest son Zachary and me losing a combined weight of more than 120 pounds? Dad gets to fly with his pilot student son and instructor again!"
One of the benefits of my oldest son Zachary and me losing a combined weight of more than 120 pounds? Dad get's to fly with his pilot student son and instructor again! Expect a live video feed in about an hour to an hour fifteen. #proudpilotparent — Gregory Jbara (@GregoryJbara) February 24, 2019
The transformation from 268lbs to 185lbs has indeed marked a milestone for the Remember Me, actor.