Greg McElroy's Wife Still Prefers To Avoid The Limelight
The Los Angeles, California native, Greg McElroy has been playing football since his childhood. He has played for two teams in the NFL, New York Jets and Cincinnati Bengals. Greg is happily married to his wife, Meredith Gray, and together, they have a son. However, the wife of the former NFL quarterback likes to keep herself away from all of her husband's fame.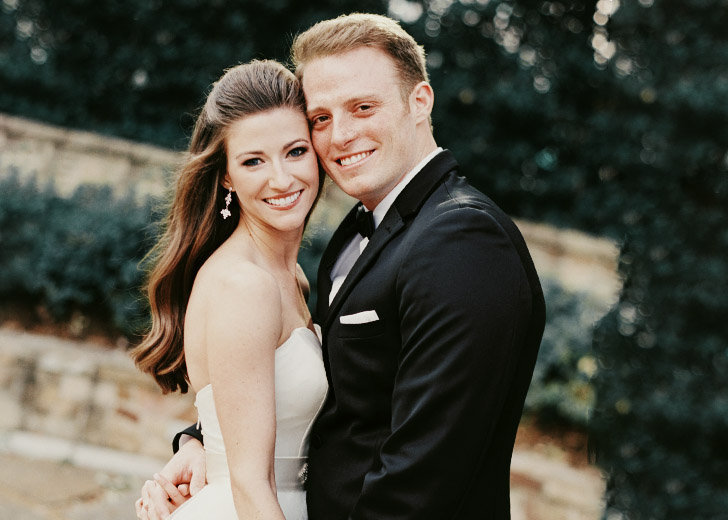 NFL's Former quarterback Greg McElroy is famous for what he does, playing football and being an analyst for ESPN. Due to his work, he gets quite a limelight. But, it turns out, his wife, Meredith Gray, avoids the spotlight as much as possible. And, it is not a new thing; she has been doing so since the time they were dating.
Now, let's know more about Greg's wife and her family through the article below!
Greg McElroy's Wife Avoided Limelight Even Back When Dating
Escaping the limelight is not Greg McElroy's wife's new habit, as she has been doing it since they were dating.

Greg McElroy and his wife, Meredith Gray, back when they were dating (Source: Nypost)
As Greg's fame was rising for his gameplay, the duo usually drew gawks and phone-camera snaps when in public.
More to that, Meredith captured quite an attention. She even got interviewed by The Dallas Morning News for the first time as Greg's girlfriend on January 7, 2010. During the interview, she mentioned that she was pleased that she had never been interviewed as Greg's girlfriend ever before.
She also said that it was funny how people were amazed by Greg's relationship with her and clarified that Greg was a human being and can have relationships.
It's been quite an adventure, that's for sure. I just think it's funny that people are so amazed. He's a human being. He has relationships.
Greg McElroy And Wife Knew Each Other Since College
Greg and his now-wife, Meredith Gray, knew each other since their college days. They first met each other in March 2008 at the University of Alabama and soon started dating.
In 2014, they got engaged; senior reporter for Alabama football Stephen M. Smith congratulated the two for their July engagement. After months of being engaged, Greg and Meredith shared the wedding vows in the ceremony held at the Arlington Hall in Dallas, Texas, on February 21, 2015.

Greg McElroy with Meredith Gray on their wedding day (Source: Dweddings)
They welcomed their first child, a son named Gregory Vincent McElroy III, in January 2019.

Greg McElroy with his father and his son on June 16, 2019 (Source: Greg's Instagram)
Greg McElroy's Wife Is Pharmacy Educated
Despite a low-key profile, information on Greg McElroy's wife and her family is quite evident. A series of Twitter posts from her family members revealed that her father is Scott Gray, and her mother is Phyllis Gray.
Apart from her parents, Meredith also has two siblings; sisters named Maggie Gray and Lydia Gray.

Greg McElroy's Wife, Meredith Gray (middle), with her parents and two sisters (Source: Lydia Gray's Twitter)
As for her education, the Decatur, Ala., native took chemistry as her Major subject during her junior years at Alabama. She then studied Pharmacy at Creighton University School of Pharmacy, starting from July 2011.
Though her information regarding education and family is apparent, her current whereabouts, profession, and personal life remain off the grid. No doubt, she is a pro at keeping Greg's fans wondering about her and their relationship, all by simply evading the limelight.