Cheerleader Gabi Butler Is Proud Of Her Parents and Her Height
Gabi Butler is one of America's finest flyer-cheerleaders. She trains alongside the Navarro team. Her boyfriend is a handsome American football player. She celebrates her birthday in January every year. Her height and weight are perfect for her to be a flyer-cheerleader.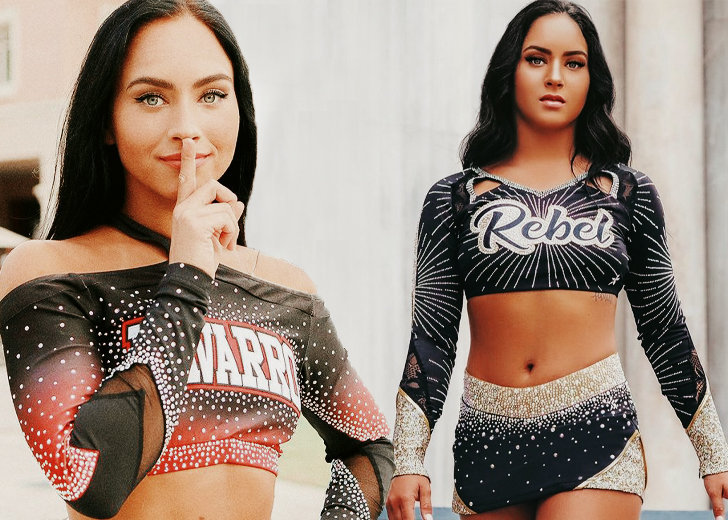 Gabi Butler, one of the break-out stars of Cheers, the popular Netflix docuseries, has always been vocal about her passion and dedication for cheerleading.
Even as a 14-year-old, during an interview with AwesomenessTV Cheerleaders, the Navarro College Champion talked about her relentless commitment to her work. With a personal mantra of 'eat-sleep-cheer', Butler shoulders a taxing training routine and follows a strict diet. But regardless of her commitment, she has a life beyond cheerleading. In this article, we explore a Gabi away from the realm of cheerleading and focus a little on her love life, personal events, and her career as a 'cheerlebrity'. 
Gabi Butler is Dating a Handsome American Football Player
The Florida native, Gabi Butler is currently in a romantic relationship with the talented and handsome American football player Jordan Brooks-Wess. They began dating each other in-between late 2018 to early 2019.
On April 28, 2019, Jordan posted a picture on Instagram where the couple can be seen hugging each other after Jordan's football match.
Since then, Jordan has been posting pictures of himself with his lover Gabi on his social media handle. He even wished her on her birthday, while also expressing how he cherishes every moment with Gabi. Most recently, on October 25, 2020, Gabi posted a picture on her Instagram handle where she can be seen kissing her boyfriend, Jordan, indicating that they are still together.
While her weight is unknown, Gabi Butler is proud of her height
Although the two-time World Championships flyer-cheerleader has a short height, Gabi Butler doesn't think it is anything to worry about. On the contrary, she is very proud of her short height as it allows her to further pursue her dream career, cheerleading. As per her IMDb profile, Gabi stands at a height of 5 feet 2¼ inches (1.58 meters). Her stature has definitely not been an impediment in her abilities as a cheerleader, but rather might have aided her flexibility. Considered as one of America's finest flyer-cheerleader, Gabi is lauded across the 'cheer' world for her flexibility as she and her contemporary mention in a video by AwesomenessTV Cheerleaders.
As for her weight, Gabi has not fully disclosed her measurements in public. However, the fitting weight for a flyer, as Maria Balli, a college cheerleader answers in a Quora post, is said to be 53.98 kg (119 lbs). While Gabi's weight is unknown, her high-flying stunts and her physique, suggest she has an optimal weight for a flyer. 
Gabi's Parents Help Her To Be In Her Top Game
Hailing from the suburbs of Boca Raton, Florida, the very talented Gabi Butler was born on January 16, 1998. While her mother is Debbie Butler, details on her father are not revealed as of yet. Furthermore, she has three siblings, a brother named John Michael and two sisters named Ashley and Amanda. Gabi's mother also makes her appearance at the docuseries Cheer. As Gabi Butler gained fame, she has made appeared in a couple of TV shows, which include Secret Diary of an American Cheerleader (2012), Cheerleaders (2013), Celebrity Show-Off (2020). 
Among these, 2020's Netflix docuseries Cheer which is also one of her more popular shows, garnered some controversies towards the cheerleader superstar's parents. The series painted an unflattering picture of her parents when in one episode Gabi's mother can be seen confronting her and shows concern about her eating unhealthy food and weight gain. The controversy was so high that the docuseries' watchers even stated that Gabi was being used by her parents as a means of earning money.
Nevertheless, Gabi released a statement, through her Twitter on January 9, 2020, depicting how her parents always helped and supported her, and her earnings were directly deposited into her account only. In the statement, she says that her parents are her biggest support system.