The Real Reason Behind Tattoo Lover Frank Fritz's Weight Loss
Frank Fritz is a regular cast on the TV Series documentary, American Pickers, since 2010. In Season 9 of the show, Frank faced a number of questions when the fans saw that he had drastically lost his weight. Later, he revealed that his weight loss is not intentional, and that he has an illness called Crohn's disease. Frank is also a huge lover of tattoos and has inked all over his arms.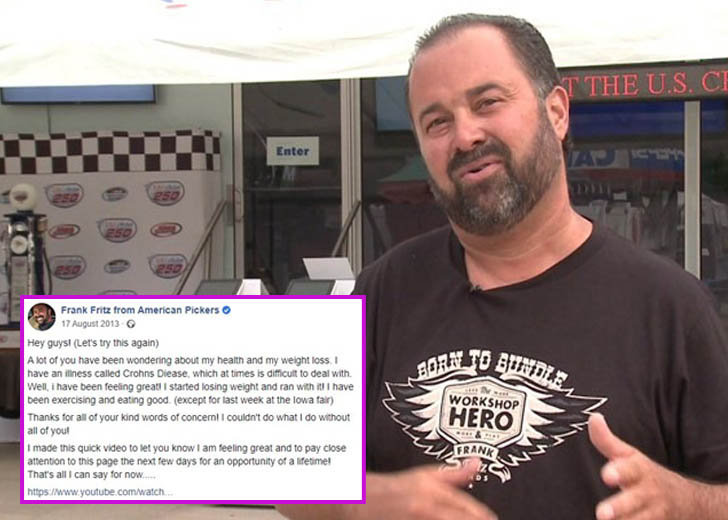 It is not a big deal for actors to gain or lose weight for their roles in current/upcoming movies or TV series. However, it is different in the case of the Davenport native reality TV star Frank Fritz.
The fans of the co-presenter of the History Channel's show 'American Pickers' were raising their concerns after seeing the fit-and-fine star losing his weight very drastically. Due to all of the raising concerns, Fritz eventually decided to answer those questions. 
So, what was his answer? And what more do we know about him? Well, keep reading to find out!
Frank Fritz Is Battling With A Chronic Disease
Frank Fritz has appeared on the TV Series documentary, American Pickers, since 2010, and during all that time, there were no concerns about him, especially regarding his weight. However, when he appeared in the show's ninth season, fans began asking questions when they saw he had drastically lost his weight.
Slowly, but eventually, the topic became so frequently questioned that the reality TV star thought he needed to address it. While addressing it through Facebook in 2013, Fritz revealed that he has an illness called Crohn's, and sometimes it is difficult to deal with it. The actor thanked all of his fans for their kind concerns over his health and stated that he has been eating healthy food and exercising regularly.

A snip of Frank Fritz's now-deleted Facebook post where he revealed the reason behind his weight loss (Source: Facebook)
Later, it came to light that Fritz had been fighting Crohn's disease since 1986, and during the timespan, he had managed to understand its symptoms and deal with them. The symptoms of Crohn's disease include fever, abdominal pain, skin and eye irritation, diarrhea, bloody stool, and reduced appetite.
As of now, the reality TV star seems to be on the brighter side. Likewise, he has been using his experience as an advocate for Crohn's disease by being a part of Crohn's support group in the Quad-Cities.
Frank Fritz Is An Avid Tattoo Lover
Tattoos hold a very special place in the heart of the American TV show's star, American Dad!. He has tattoos all over his arms. Over the years, Fritz has been one of the frequently visiting customers of Hawk's Tattoos.

Frank Fritz receiving tattoos from James Hawk at Hawk's Tattoos (Source: galesburg.com)
Most recently, on April 24, 2019, he added some more ink over his arms from the owner of Hawk's Tattoos, James Hawk.
The Reality TV Star Has A Loving Girlfriend
The Davenport native reality TV star Frank Fritz is in a relationship. Yes, that's correct. After years of being single, he finally got the partner he was looking for.
Fritz is dating a fine lady named Diane. Even though the duo appeared together in 2015, they are yet to reveal how they met and officially began their relationship. However, it is known that Diane is a divorcee and has a daughter named Paige, and a granddaughter, Eulalia, from her daughter.

Frank Fritz alongside his girlfriend, Diane (middle), Diane's daughter Paige (left), and her baby granddaughter, Eulalia on December 21, 2016 (Source: Frank's Facebook)
Well, it seems that Fritz is very happy with his relationship with Diane and the family.