Famous Reporter Erin Moriarty From CBS: Personal Life Of 48 Hours Presenter
A correspondent of CBS News program 48 Hours Mystery, Erin Moriarty successfully disseminated her name in the realm of journalism. As she became the renowned media personality, her fans are enthusiastic about her personal life apart from professional one. .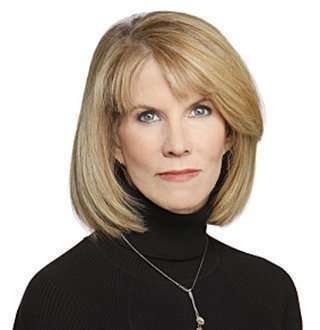 Erin Moriarty despite all her name and fame, was not able to give her mother identity. With the change in political landscape across the states, Erin was unable to prevent her mother living her life under the veils. 
The 66-year-old is a news reporter and correspondent for the investigational show 48 hours. As a correspondent and investigational journalist, Erin has covered for high profile investigations including the death of Princess Diana, and Iraq war.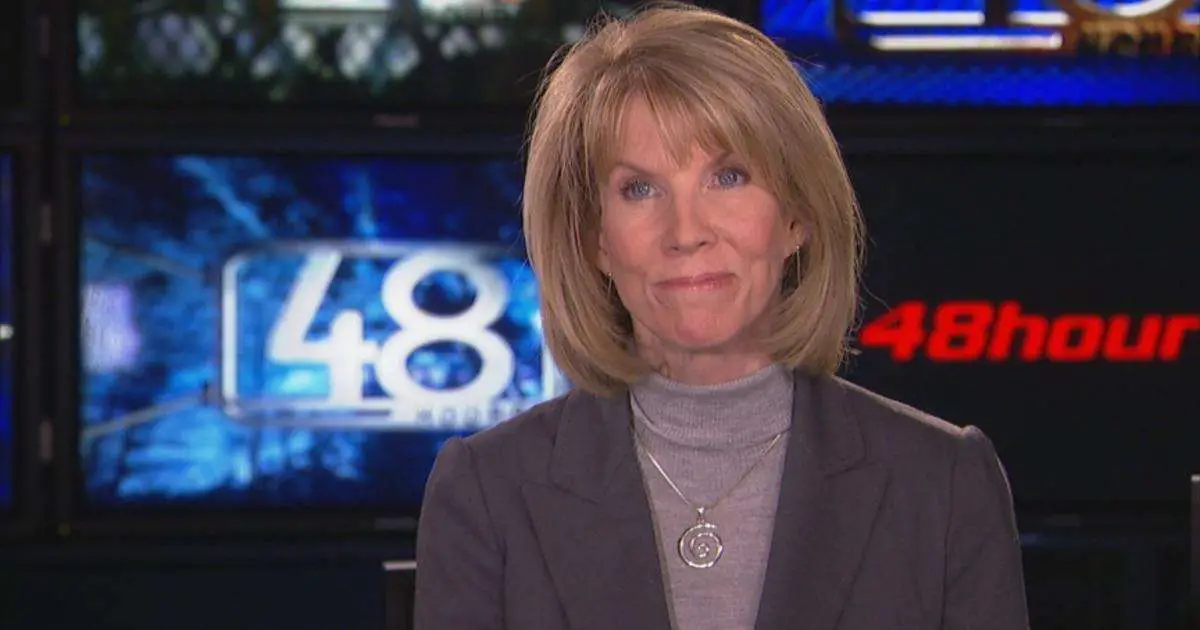 Erin Moriarty as a correspondent for the show 48 hours in 2018 (Photo: cbsnews.com)
Erin Moriarty, born 6th April 1952, is the graduate of Ohio State University with a degree in behavioral sciences and law. 
After her graduation in behavioral science, Erin began reporting for NBC affiliate WCMH-TV in Columbus. After working for a year in WCMH-TV, she was shifted in the CBS affiliate WJZ-TV in 1980 where she reported news for two years. In between 1982 to 1986, Erin worked in several TV channels like WJKW-TV and WMAQ-TV Chicago.
Erin's breakthrough came after she joined CBS News in 1986. Furthermore, she was signed as a correspondent for 48 Hours in 1990 which helped her to pursue her passion for investigative journalism. In the year 1990, she and Dan Rather worked together in the "CBS Evening News."
Erin's performance as a correspondent of the show "48 Hours"  has been appreciated and awarded. She has been bestowed with nine national Emmy Awards, a 2001 Overseas Press Club Award for her work on '48 Hours'.
Apart from several awards and felicitations, her work with the network has been equally rewarding financially, boosting her net worth. Despite not revealing the exact figures, her salary is thought to be in the upper echelons for her work with CBS, and a net worth of millions.
Born on 6 April 1952, Erin was trained to be an attorney. And despite not being an attorney, she is married to an attorney. The correspondent resides in NY with her family which consists of husband E. Muscara and a son. 
Erin was married to Muscara on 15 October 1983, and have been together through the thick and thins for more than three and a half decade. 
Mother Fears To Reveal Ethnicity
Erin Moriarty was born to parents of mixed ethnicity. Her father is of Irish origin, and her mother's ethnicity has not been disclosed because of the fear of being discriminated.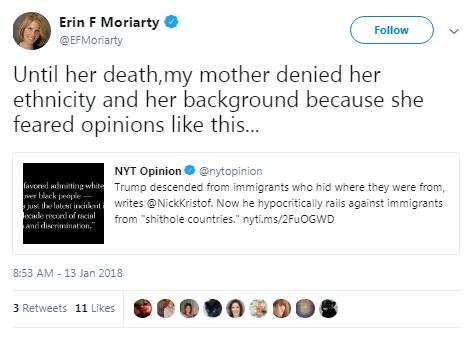 Erin Moriarty expresses remorse at President Trump's racial discrimination in January 2018 (Photo: Erin Moriarty's Twitter)
Sharing an NY Times opinion about President Trump favoring the White people, and his hatred for immigrants she revealed that her late mother was fearful of revealing her identity because of racial discrimination. 
The worst part was Erin's mother had always imagined for a world with equality but had to hide her origin and background for fear of being discriminated against racially. What's more, she carried her secret with her to the deathbed.
Erin's Continued Struggle Against Discrimination: Reports On Disgraced "Conversion Therapy"
Part of her crusade against inequality, Erin, recently, reported a news section about the debunked practice of "Conversion Therapy" for homosexual people. Sometime back homosexuality was believed not as a natural orientation but as an outcome of conditions a person is subjected to. And since the evangelical Christians think homosexuality a sin, conversion therapy sessions were held for people who, being Christians, were ashamed of their sexuality and wanted to change.
Erin interviewed Adam Trimmer, a gay man who went through one of those therapy sessions, and Alex Cooper, a gay woman subjected to unlicensed sessions at the age of 15. Both of them gave the accounts of grueling effects of the sessions, how they were useless grand schemes and mind games that sent people to guilt trips, depression, and spirit-breaking psychological strain.
Erin also interviewed Alan Chambers, who was once the director of one of the organizations that provided the sessions. All along, Erin shed light on how such attitude towards the difference, towards the things that go beyond the common perception of normal, could break people around you, people you love. A lesson to be learned by everyone.