Diane Kochilas and Her Husband Want Their Kids to Inherit Right Values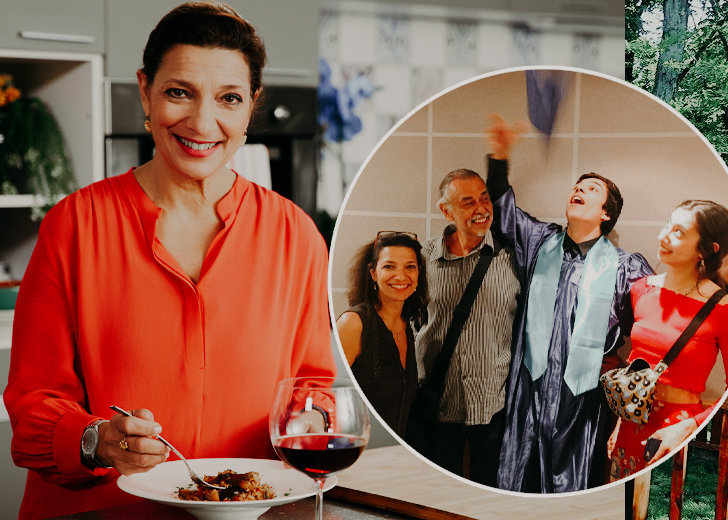 Diane Kochilas, one of the world's foremost experts in Greek and Mediterranean cuisine, is a happily married woman. She has been married for over 37 years with her husband, Vassilis Stenos.
Kochilas and her spouse Stenos have been blessed with two kids, a son named Yiorgo and a daughter named Kyveli. As parents of two, the celebrity couple wants their children to follow a good path and inherit the right values. She even wrote a letter to her kids with the same motive and published it through her official website.
Diane Kochilas Apologised to her Kids for Wrong-doings
On July 13, 2015, the Greek food guru surprised her fans and probably her children too; she posted an apology letter to her kids asking for forgiveness for her and her husband's wrong-doings.
In the letter, she first mentioned that she wrote it from her family home on Ikaria, a place known for poverty and hardship. She stated how she and her husband left their birthplace and its values for material wealth. 
The letter was especially potent because of how Kochilas addressed the economic and political turmoil that her motherland Greece was facing at the time was, at least in part, because of her actions. 
"The state of Greece now, totally septic and broken, is the result," she confessed.
The mother of two also penned that she wrote the letter to take responsibility for the wrong things she and her husband were teaching their kids.
Moreover, through the letter, the food columnist shared how she avoided a legal receipt from the marketplace and bribed public service employees at Piraeus's Greek customs office. Then, she asked for forgiveness from her children for spoiling them, failing to give them a sense of responsibility, and not teaching them that every action has a reaction.
At the end of the letter, the cookbook author expressed her hopes that their kids will not repeat the same mistakes that she and her husband made. She suggested they inherit the right values and demand a reboot.
What you have inherited was built on lies. Only a reboot can save it and only your generation can demand that, for ours has spent its moral currency. Nonetheless, we're older and perhaps wiser and do have some perspective, so here's my Greek mother's radical advice for righting the wrongs.
Diane Kochilas Writes Cookbooks with Husband
Kochilas and Stenos have been together for almost four decades since sharing the wedding vows on May 10, 1983. 
Ever since they got married, the two have been together not just as man and wife but also as business partners. The pair owns and operates a recreational cooking school named Glorious Greek Food, located on the Blue Zone island of Ikaria.
Besides providing culinary tours around Greece for foodies, travelers, and food and beverage professionals, the married couple has also authored a few cookbooks. The Food and Wine of Greece: More Than 300 Classic and Modern Dishes from the Mainland and Islands of Greece and The Country Cooking of Greece are among their best-selling books.
Most of the time, they both work as co-authors. But in some cases, the consulting chef authors the book, and her husband works as a photo collector on the side to compile pictures of his wife's recipes to be published alongside the instructions.