What Desiree Akhavan's Instagram Snub May Represent?
Desiree Akhavan, an Iranian-American screenwriter, actress, and director, has recently gone off Instagram. But why has the talented writer gone off the social platform? Find answers to that as well as a few more things about her here.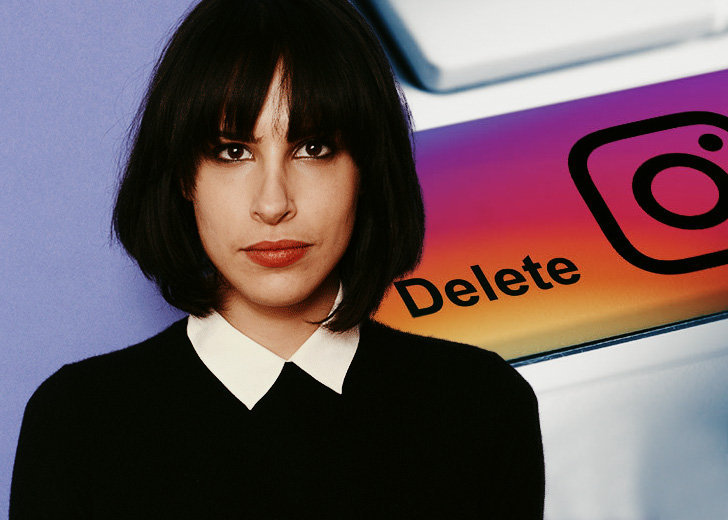 Desiree Akhavan is an American filmmaker, screenwriter, and actress. Desiree, who is best known for her brilliant cinematic works like The Bisexual (TV series), Appropriate Behavior (Movie), and The Miseducation of Cameron Post (Movie), has decided to take time off Instagram.
But why did she deactivate her account? Does it have to do something with her troubled past? Was she fed up with the shiny social media?
As a Highschooler, Niceness was all That Desiree Akhavan had
Born in 1984 in New York City, Desiree Akhavan's parents had just arrived in the US after fleeing Iran, presumably due to the conflict that was going on in Iran in the 1980s. The Akhavans immediately started identifying themselves as Americans.
Desiree was raised in the city and attended Manhattan High School. She was constantly bullied and had a hard time throughout her schooling days. She did not fit in and was the kind of person, according to herself, that "made birthday cakes on your birthday and had spare tissues if anyone needed them." She was the kind who" tried to kill people with niceness" because niceness was all that she had.
She somehow survived the wrath of high school and joined Smith College in Massachusetts to study theatre and film. There, too, she was quite lonely, which resulted in her taking solace in weed and food. She ended up suffering from bulimia too.
Desiree Akhavan Got Into a Rehab at 25
Following her struggle with bulimia and loneliness, Akhavan's health condition deteriorated. So, at the age of 25, she checked into the Renfrew Center in New York.
She was given intense therapies and was assigned to a program to cure her eating disorders.
It was around this time that she fell in love with a woman and also came out to her parents as bisexual, which, according to her, was not easy at all.
Akhavan has Drawn Inspiration for Scripts from Life Experiences
Akhavan has worked in all departments of filmmaking. Primarily a writer, she also acts, directs, produces, and edits. In addition to this, she has also worked as a production manager, cinematographer, in the soundtrack department, and as a miscellaneous crew member.
As a writer, she has created and written five shows and movies; The BIsexual (2018), The Miseducation of Cameron Post (2018), Appropriate Behavior (2014), The Slope (2010-2012), and Nose Job (2010).
All her screenplays derive inspiration from her own experiences in life as a bisexual woman. Talking about Appropriate Behavior in 2015 with The Arts Desk, she shared that the events in the movie did not take place precisely as shown in her real life, but the core matter of the film is quite personal and authentic to her.
The events in the film didn't take place, but the subject matter is incredibly personal and true to me. When I wrote it I had recently come out to my Iranian family, and had just gone through a really awful break-up, from my first serious relationship with a woman.
She further added that she wanted to make a film that showcased what she was going through in life.
I was heartbroken, and I was experiencing the most uncomfortable phase of the coming out process, after you've made the big announcement. Your family has no idea how to process the information and you can't look them in the eye without wondering if they're imagining you having gay sex, now that they know that you're capable of it.

I decided I wanted to make a film that touched on the themes that were ruling my life.
Similar is the case with The Miseducation of Cameron Post. In an interview with The Guardian in 2018, Desiree said that she drew inspiration for the movie from her time in rehab and the experiences she had regarding her sexuality and personality.
Really, it's my film about rehab. In rehab, there was always this question of: 'OK, what if overeating is actually my personality? What if it's part of me, the way my sexuality is?' That became the question that I wanted to explore. We all wanted to be better, but what if we wanted to be better from something we could never get better from?
Akhavan's way of portraying personal issues in cinematic productions isn't just a breath of fresh air, it is empathetic and relatable too. Her presence on Instagram was the same— she'd share raw and real photos, unlike the filtered ones that flood our feed. It is not yet clear as to how long her Instagram hiatus will last, but let us hope that it is just a temporary break, and she hasn't deleted her account for good.
Desiree Akhavan Deleted her Instagram in Early 2020
As of now, the 35-year-old filmmaker has either deleted or deactivated her account on this photo-sharing social media platform as it is not accessible.
She has not given any clear reasons as to why she did that. However, in a tweet dated 23 May 2020, Akhavan wrote that she found Instagram "too stressful". She even compared Instagram to the mirror in Beauty and The Beast movie.
Instagram is a bit like the mirror in Beauty & the Beast. And I don't want the mirror from Beauty & the Breast. Too stressful.
For those who didn't get the comparison that she put forward, the "Enchanted Mirror" is a magical object in one of the Disney movies named Beauty and The Beast. The mirror possesses a magical power that allows a person to see whatever they wish for.
From this description, what we can guess is that Akhavan might have been hinting at Instagram's ability to show its user the current state of the world and their own state concerning the world as well. From her perspective, one can actually see how this might really be stressful, especially for vulnerable people.