Cristela Alonzo On Her Onerous Weight Loss Journey. What Are Her Measurements?
Cristela Alonzo's weight loss journey makes her an inspiration to everyone. she is inspiring not because she has idolized subjective beauty standards but because she clearly implied that she wouldn't lose weight for the sake of her looks.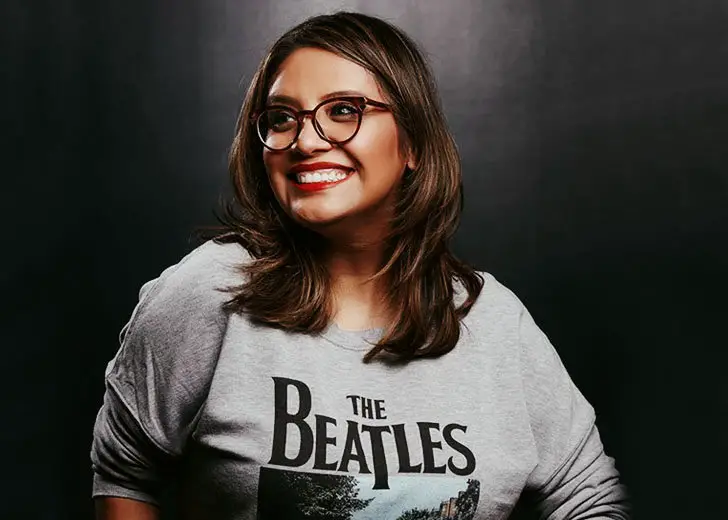 Stand-up comedian Cristela Alonzo has joked about her measurements and her desire to shed a few pounds regularly during her stand-up shows. But it turns out that she started her journey to lose weight out of a medical reason.
Cristela Alonzo felt Great after Losing Weight
Back in February 2014, the Lower Classy comic shared  her experience about her weight-loss journey with her friends and followers on Facebook. The post was filled to the brim with positivity and conviction. 

Cristela Alonzo's shares her weight loss journey in 2014 
The post began with Alonzo announcing that she had gone down one size in her clothing and that achievement alone was making her feel great. The journey, she claimed, was not easy but it got a tad bit easier as she went along.
At that point in time, Alonzo was so focused on her fruit and vegetable-rich diet that she had started detesting the food that she once liked.
She further went on to inform her followers through her post that she could not stand the taste of some of the elements of her previous diet.
I'm down a size in my clothes. It feels great. I'm at the lowest I've been in eight years and I'm still losing weight. It's not easy but one thing I've noticed is that since I'm really watching what I eat (and by that I mean I eat a lot more fruit and vegetables), I can't stand the taste of some of the food I used to like.
Alongside the inspiring post, Alonzo posted two pictures that were central to her weight loss strategy: workout and food. The first snap featured the stand-up artist fresh out of the gym and covered with sweat. 

Cristela Alonzo sweats at the gym in 2014 
Similarly, the next snap showed off her new food regiment. As can be expected from someone on a quest to lose weight, the plate was heavier on the greens. 

Cristela Alonzo's shares a snap of her diet in 2014 (Photos Source: Cristela Alonzo's Facebook, 3)
Alonzo's Target was to Remain at 150 Pounds Weight Range
While sharing her initial weight-loss journey, Cristela Alonzo had also shared her determination to maintain a 150 pounds weight range in the coming days. 
"My goal is 150, which is completely reasonable for my height. I refuse to even try to go lower than that. 150 is a healthy weight and that's all I want to do be: healthy."
The 5 feet 3 and a half inches (1.61 meters) tall comedian also went on to add in her post that she wanted to be healthy enough to be able to do day to day tasks with ease and steer clear of any obesity-related illnesses. 
I want to not lose my breath so much when I walk uphill. I want to not feel frustrated because I can't find clothes that fit. Diabetes and heart disease runs in my family and I need to make sure that I take care of myself now before it's too late.
Cristela Alonzo has Medical Reason for Losing Weight 
Although her journey to a healthier body began for just that; a healthier body, Alonzo was motivated even more when her health severely deteriorated sometime in 2017. 
One of Alonzo's fans had replied to a tweet back in 2018, saying that Alonzo's Latina aunts would blame her skinny frame as a reason that she is single. Alonzo, in response, stated that she had rapidly started losing weight because she almost died the previous year. She then went on to clarify that looks were not something she considered to start losing weight. 
Now that Stephen Miller's uncle wrote about his nephew being an immigration hypocrite, I am looking forward to one of my aunts writing her "This Is Why Cristela Is Still Single" article about me ASAP. — Cristela Alonzo (@cristela9) August 13, 2018
Not at all. I'm doing it under doctor's orders because I almost died last year due to a medical issue. I didn't lose weight for looks. I'm just waiting for the doctor to clear my numbers. Will talk about it in my next hour special. — Cristela Alonzo (@cristela9) August 13, 2018
She explained that she was a diabetic who must constantly keep her diet and weight in check.
Here's a Brief Snippets Of Christela's Weight Loss Journey over the Years
Cristela Alonzo has not disclosed yet if she achieved her targeted goal of losing 150 pounds, nor she has revealed her measurements. But judging from her looks across time, she has definitely worked on her well-being. 
Follow this timeline to determine for yourself how she has looked across times, starting from the time that she looked all cute and chubby, flaunting her beautiful dimples.
2013
2019

Cristela Alonzo's Book Release in 2019 (Source: Cristela)
2020
Hello everyone!

I am SO excited to be hosting this celebration tomorrow night! I am kicking off Hispanic Heritage Month for the Biden-Harris campaign with a bunch of awesome people/friends! Join us Tuesday, September 15th! No se lo pierdas! RSVP HERE: https://t.co/MtEZuaDXPV pic.twitter.com/ECVuM8i4fJ — Cristela Alonzo (@cristela9) September 15, 2020
As it is clearly visible in the timelines, the graceful comic' appears to be leaner than she was before.
Cristela Alonzo's Weight-Loss Journey makes Her an Inspiration
Her weight loss journey makes her an inspiration to everyone. She is inspiring not because she has idolized subjective beauty standards but because she clearly implied that she wouldn't lose weight for the sake of her looks. In fact, she found humor in the hardest parts of her life. Her effort should be praised because she is a perfect example of inner beauty. 
Moreso, she has proved it by example that if you are diligent, you too can achieve what you want in life.
Important Note: This article is not written to denounce the overweight individuals, nor it's penned to imply any form of negative assertions or connotations to being overweight. The author and Hollywoodmask understand and respect both the Body Positivity and Body Neutrality movement in a sense that we should treat each other with empathy and strive together to imagine a world in which we can channel our inner beauty and potentialities.