Despite Having A Wife Corey Holcomb Watches Movies Only With His Mistress
Naturally, the topics of relationships, affairs, and love are very complex and may vary from person to person. But for Corey Holcomb, it seems like he has it all figured out for himself — so much so that he isn't afraid to let his wife know about his 'side chicks'; and vice versa.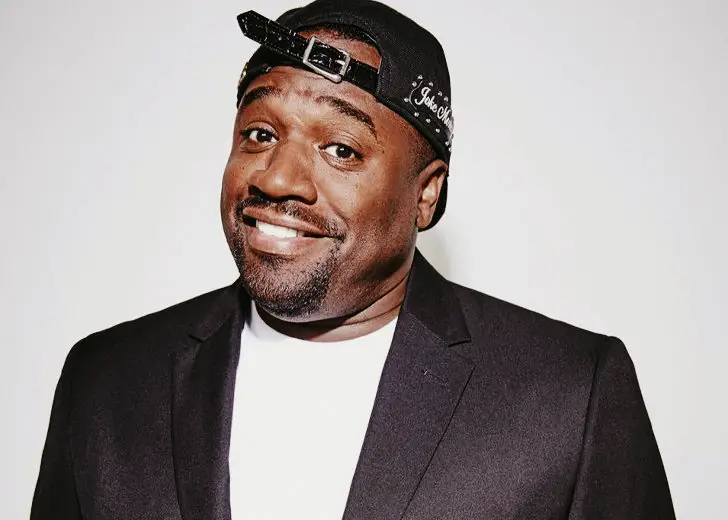 Is it cheating if you admit to the media that you only watch movies with your mistresses despite being married? You can be the judge of that. But is it still cheating if the wife knows about it?
Well, American stand-up comedian and actor Corey Holcomb may have an answer to this. He is an honest and courageous guy who has been open about his 'extramarital affairs — so much so that he isn't afraid to let his wife know about his 'side chicks'; and vice versa.
Who is Corey Holcomb's Wife?
Corey Holcomb is married to a woman named Maya Holcomb.
Although their marriage details such as where and where remain obscure, they share three children together. And much like those details, his wife and their children prefer to remain away from the spotlight. Even when Corey talks about his wife, she is usually the punchline to his jokes.
Corey Holcomb Says Wife Might Know About His Affairs: 'She's Not 100% Sure, But She Ain't Dumb'
Being a celebrity, Corey's interviews are exclusively available online, not just for his fans but also to his wife. So, it's definitely possible that she has also seen her husband's various interviews and comic sets where he talks about his affairs.
But let's hear it straight from the horse's mouth instead. In a short interview with TMZ, a reporter asked Corey about whether he had seen Fifty Shades of Grey or not. To which Corey replied that he only watches movies with his mistresses. 
The reporter then asked if his wife knew about his extramarital activities. His reply had the filming crew laughing as he skittishly said, 
She's not hundred percent sure, but she ain't dumb.
And after a brief pause, he added, "I love you, baby," rounding off the first segment of the interview with the punchline.
Corey Holcomb's 'Side Chicks' Know That He's Happily Married
In an interview with BlackAmericaweb.com, Corey Holcomb calmly disclosed that he had told his mistresses that he was happily married, and they had to do better to keep their affair a secret away from his wife. 
But the interview didn't stop there. In a bit more serious tone, Corey elaborated that he drove home depressed because 'it was so easy to get with some of these girls in poverty.' The comedian continued that though he demanded the girls to do better by rejecting someone who already has a wife, they never did; he said whilst explaining that they couldn't get mad at him as it wasn't him alone accountable for the affair.
Corey Holcomb Does Not Believe In Monogamy
The line between a joke and reality is very thin. When a comedian's jokes revolve around his family's inner circle, it is hard to tell if what he is saying is just a joke or if it is the truth.
It is the same with Corey. But his frequent jokes and confessions in various interviews regarding relationships, affairs, and love might point to most of them being truthful extracts from his life. 
His interview with The Breakfast Club, where he stated his stance on Monogamy, makes the argument more persuasive. In the interview, he stated that he doesn't believe in Monogamy. When the interviewer asked him if he believed in polygamy, he stated that he didn't 'want to put a word on it.' Then, he further elaborated the topic as,
While I'm alive, I don't want to be put in a situation where I have to be scared of doing what I am allowed to do. I'm not taking anything from anybody.
With Corey, the line between a joke and the truth still remains blurry — a testament to his talents as a comedian. As for his marriage, their relationship remains intact despite his belief in polygamy.