Corey Campbell Celebrated Anniversary With Girlfriend Amid Pandemic
Corey Campbell made a surprise visit to his girlfriend, Cat Conley amidst quarantine for their anniversary despite his mother not wanting him to travel. Since then, the two have posted lots of content together.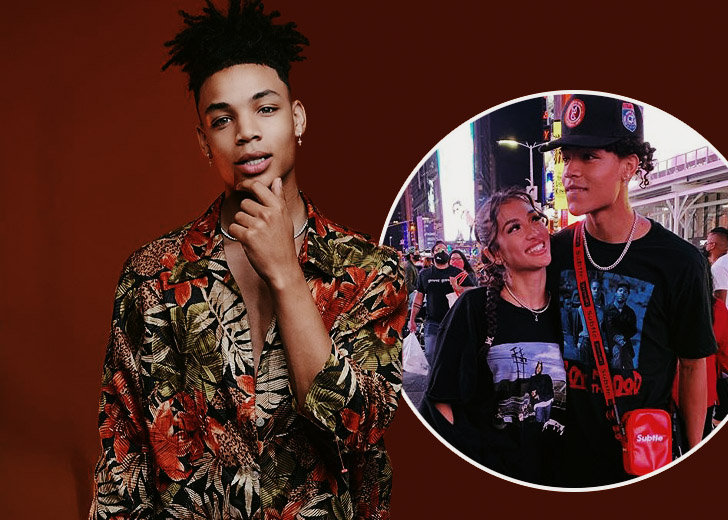 Corey Campbell is an Instagram star and model who is also quite famous on other platforms like TikTok and YouTube. Initially, Campbell rose to fame via TikTok when it was still known as musical.ly. He used to post lip-sync videos under the name justttcorey.
Campbell is currently dating a fellow social media personality, Cat Conley. The couple has been together since early 2019. Campbell surprised his girlfriend this past year by visiting her during the pandemic, and the cute pair have posted a lot of content together since then.
Campbell Surprised His Girlfriend For Their First Anniversary
Campbell engraved his name on the list of the best boyfriends of 2020 (if there is any list as such) this past April when he gave a surprise visit to his girlfriend for their first anniversary. He made a video on it and posted it on his YouTube channel on April 20, 2020.
In the video titled "SURPRISING MY GIRLFRIEND FOR OUR ANNIVERSARY!", Campbell shared his plan and set up for the surprise visit. He hadn't met Conley for some time due to the lockdown. So, for their anniversary, he came up with a plan to gift his girlfriend a surprise visit.
Corey contacted Conley's brother and asked him to get permission from their parents if it was okay to fly in and surprise her.
Upon receiving a positive answer, Campbell flew over to Houston for a visit. Since then, the young couple has made multiple contents together for their fans to see.
That being said, Campbell's mother was initially adamant to send her son anywhere outside the home. 
In the same video, Campbell emphasized how much his mom was against him traveling. The pandemic was still a new issue then, and she was strictly against him hopping on a plane and going to a different city. 
"So, my mom does not want me to travel. Like that's the thing,she does not want me to travel AT ALL. Like at all."
The Couple Have A Very Cute Story On How They Met 
In November of 2018, Campbell came across Conley on one of their mutual friend's Instagram live. The two then started DMing and eventually exchanged their numbers. They grew closer over time through Facetime and finally met in January of 2019 when Campbell visited her for two days in Houston. 
In a video, Conley shared that Campbell was very special to her as he was the first person to give her a gift. Campbell bought her a pair of shoes that matched the ones he was wearing. 
"The first time we met, he bought me something. I wear those shoes all the time!"
Along with having matching shoes, the couple also has a matching tattoo that reads CAC.
Just like her boyfriend, Cat Conley is also a social media star. She has over 335k followers on her Instagram, where she is seen posing for brands like Doncare and Revolve.
Along with that, Conley has also received a lot of praise for her voice. She has covered the song Honey by Kehlani on Brian Perales' YouTube Channel.
Campbell Is Very Lowkey About His Parents And Family
Campbell shares a lot about his life to millions of his fans; however, he usually keeps mum when it comes to his family. There are barely any posts across all his social media platforms regarding the Campbells, maybe because they want to stay away from the limelight.
Campbell does, however, talk about his grandmother in a video. He shares that his grandmother passed away when he was 14 due to a terminal illness, and it was tough watching her go in and out of the hospital due to the illness.
In the same video, he also mentioned that his grandmother was the family member he was most close to and considers her his guardian angel who watches over him.
He has VI.VI.MCMXLVI tattooed on his body, which is his grandmother's birth date in Roman numerical (6/6/1946).