Is Chris Stirewalt Married? How Rumors Of His Wife Circulated
Chris Stirewalt is the politics editor based in Washington, D.C. for the Fox News Channel. Not much is known about his personal life but his chemistry with his podcast co-host Dana Perino has triggered interest around whether or not he has a wife. He has called out Trump for claiming election fraud.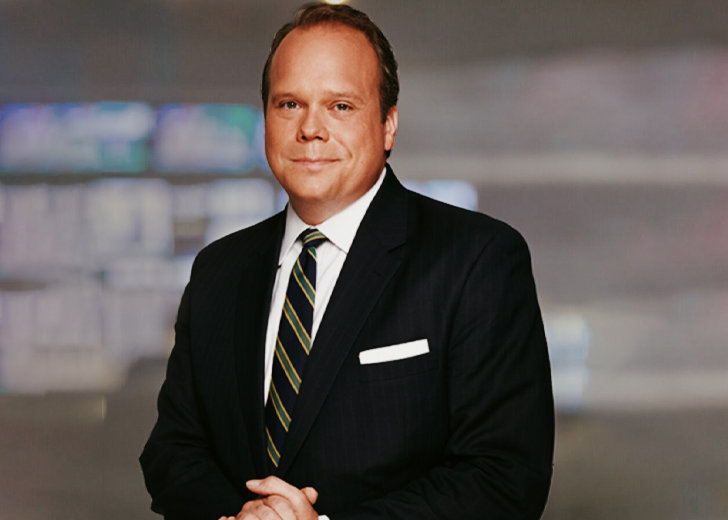 Journalist Chris Stirewalt's chemistry with his podcast co-host Dana Perino has been so undeniable that people once wondered if they were dating. 
Since the beginning of his career, Chris Stirewalt, a prominent figure in the world of American journalism, has remained quiet about his personal life. So, in the early years of his fame, the chatter around his love life had been relatively low. However, there was a sudden spike after his podcast Perino & Stirewalt: I'll Tell You What took off.
Their chemistry also spurred on the interest in Chris's personal life on whether he has a wife or not.
Chris Stirewalt's Chemistry with Dana Perino Started Wife Rumors
Stirewalt, a politics editor for Fox News, has made American people laugh and be informed simultaneously with his unconventional political commentary and humor. He also authors and hosts Fox News Halftime Report and regularly appears in numerous programs on the network. 
So undoubtedly, his career highlights are all out there for the world to see. However, one thing that is obscured even from his ardent audience is that whether he takes his eccentric comedy home to make someone else laugh, and if that someone is his co-host, Dana.
Like Chris, Dana is also on Fox News as a political commentator, hosting a few network programs and making frequent appearances in other Fox News shows. She has also previously served as White House Press Secretary during the final year of the Bush administration.
Ever since starting the podcast with Dana, people have pointed out how amazing their chemistry has been both on and off the show.
One fan even remarked on their chemistry by tweeting fondly about wanting them to be married together.
Dana Perino and Chris Stirewalt should get married, raise dogs, and smile at each other for the rest of their lives. — Sonny (@SonnyOSteen) October 30, 2017
However, all the speculations about Chris and Dana dating were soon put to rest when it became known that Dana was, in fact, a married woman and that, she is just good friends with Chris. Furthermore, her husband, Peter McMahon, was also invited to one of the episodes of their podcast. 
Other than that, it looks like any inside information about Chris Stirewalt's wife's existence seems unlikely unless he decides to publicize his personal life. For the time being, the audience can focus on his other famous aspects — like being a Fox News journalist with a Liberal mindset.
Chris Stirewalt Slammed Trump For His Baseless Lawsuits
When Fox News — who has mostly humored President Trump and was one of the main networks that contributed to his rise — surprised its viewers by calling the election for Democratic candidate Joe Biden, Trump and his team were left in dismay.
As Biden winning Arizona translated to an indefinite loss for President Trump, Jason Miller, Trump's political adviser, questioned the Fox News reporting accuracy. Chris Stirewalt stood as one of the fiercest defenders against the Trump campaign's accusation of Fox News.
On the critical day of November 4, just one day after the election, Biden led the polls with Fox News calling key major states like Arizona for him.
While on air, analyzing the election, Fox News political commentator Katie Pavlich mentioned that the Republican party could question the transparency of vote counting and added that the lawsuits from the Trump campaign could turn the election results around.
Stirewalt, however, quickly retorted by pointing out the lack of evidence to support the lawsuits. When Bret Baier, Fox News's chief political anchor, asked Stirewalt about what he thought about Pavlich's remarks, he replied,
Lawsuits, schmawsuits. We haven't seen any evidence yet that there's something wrong.
The 45-year-old did acknowledge that in cases of close elections, threats of lawsuits are always likely from either party. However, there were still votes coming in, and they were only halfway through the election night.
He also pointed out that all these claims of fraud and threats of lawsuits were only a few of the Trump campaign's ploy for trying to prevent the narrative.
Stirewalt's comments of the election haven't particularly boded well with the general Fox News audience, indicative of the network's regular viewers who have praised the channel for its conservative mindset.
Even before the chaos of the election results, Chris hasn't exactly been a big fan of Trump, often inviting the wrath of the president's staunch supporters.
For someone who loves to relish the flaws in great and weak leaders alike — clear from his book Every Man a King: A Short, Colorful History of American Populists — Chris would never leave out a controversial president like Donald Trump.