Know About Chris Distefano's Father, Wife Queries, Net Worth, Tour & Girlfriend
Comedian Chris Distefano's father Tony Distefano, who was involved with the mafia, was in and out of jail when Chris was a kid. What does he do now? Find out!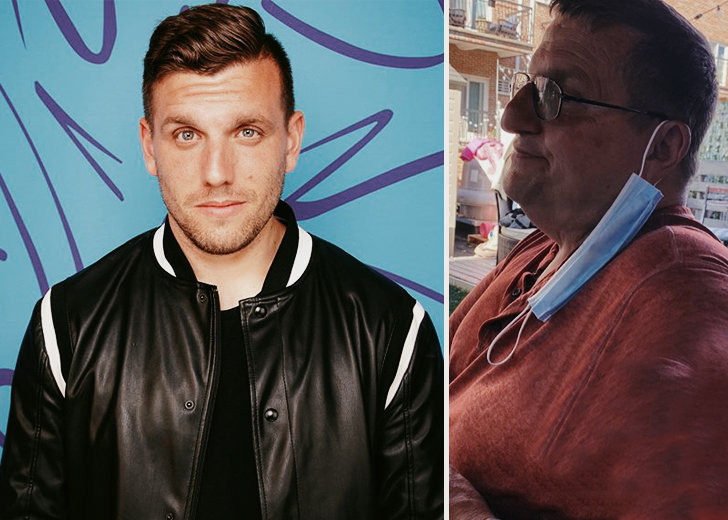 Chris Distefano, born as Christopher Anthony Paul Distefano, to an Italian father and an Irish mother, is an American physical therapist-turned-comedian.
The Brooklyn native has worked with Comedy Central, MTV, and CBS, producing and creating comedy specials, television comedy shows, and stand-ups, including Guy Code, The Half Hour, Size 38 Waist, The Challenge, and Speshy Weshy (his second hour-long special released on Netflix).
A very charming humorist, the host of the Chrissy Chaos podcast likes making people laugh, especially when they're sad. He derives most of his jokes from real-life experiences, which makes his acts quite enjoyable.
One of the noticeable factors in his stand-up routines is the crazy stories from his childhood, especially the ones including his "street guy" dad Anthony "Tony" Distefano. Tony, who was into illegal doings when Chris was a kid, has had his share of wild experiences — and Chris shares them amongst his audience, but in a very lighthearted way.
Distefano's estimated net worth as of now is $5 million.
Read the full article to know about Chris Distefano's infamous father's stories, and his wife's and girlfriend's queries. Also, get information on his tour.     
History of Mafia Connection in the Distefano Family
Chris' father, Tony, was one of those old-school Brooklyn-Bronx Italians. Speaking to Comedy Hype in 2014, Chris recalled how he had no idea what his father did for a living, but he remembered attending family barbecues with Tony, where men in black suits would also be present.
"Growing up my dad was like this larger-than-life, shady kind of character that I didn't know what he did for living. I was always meeting guys with black suits and chains on, with their hair slick back," Chris said.
He added, "Just these guys I would see at my father's barbecues and you would open up the newspaper and they would be in the paper for mob-related stuff."
What's more, Tony's close friends were as wild as him. They'd be in and out of jail like it was a normal thing to do. 
Similarly, in one of his stand-up routines, Chris also shared that his grandfather was quite an adamant man for reasons beyond comprehension. Grandpa Distefano, according to Chris, was a part of the mafia ring in New York; however, he later fought for the country in World War II.
Chris even joked about how his grandfather might have said "No" to the general's orders in a very gangster way or that he could have turned up at battlefields with no uniform and a baseball bat instead of a gun. The idea of being a criminal yet fighting for the country did not sit well with Chris.
Being said that, he thought that his grandfather might've influenced his father Tony to get into the world of the mafia.
Talking to The Bootleg Kev podcast in 2022, Chris also mentioned that her mother asked for a divorce from his father when she was pregnant with him. She was fed up with his father's gambling habit.
He also mentioned a story when he was a kid and asked his dad what he did for a living, to which his dad replied that he worked for a bank. He said that his mother's expression on his answer was sarcastic. 
A Father With the Right Intentions But the Wrong Moves
Chris describes his father as someone who always had the right intention yet the wrong moves.
During one of his shows with The Dad Club, Chris shared an incident when his dad beat up his friend's father, who also happened to be someone his mother dated after divorcing Chris' father.
What happened is, one day when Tony arrived at her (Chris's mother) place to pick Chris up for baseball practice, he saw that his ex-wife was crying over a guy she dated. Young Chris explained to his dad what had happened, and this caused Tony to go across the street, ring the doorbell of that woman's house, drag the guy out, and beat him up.
The guy who got the beating, apparently, did not have a long-lasting relationship with Chris' mother and right away started dating another woman who lived right across the street from where Chris's mother lived.
Tony Distefano Almost Beat Up a Priest to Keep His Son in School
In another incident, where his father tried to do the right thing in the wrong way, Chris explained how his dad made his school headteacher revert Chris's expulsion from school. He shared this instance during a Comedy Central show in January 2019.
The incident took place back on September 11, 2001, when the 9/11 attack had just taken place. That time, Chris was in his class at Archbishop Molloy High School when he heard about the tragic incident. His mom used to work in the World Trade Center, so thinking something might have happened to her, he started to cry in class.
Another student made fun of him for crying, which caused Chris to break a chair in his head.
Following the incident, Chris's father was called to the school as it was a severe case. Tony arrived soon after, and the father-son duo was summoned to the principal's office. The headteacher, Brother Rob, initially said that he would have to expel Chris.
However, Tony threatened Brother Rob and said he'd break his kneecaps if Chris gets expelled. The threat worked, and Chris was allowed to continue studying. But he was kicked out of the basketball team and served detention for the rest of that year.
These incidents somehow show that Tony always wanted to do the right thing, but he used the wrong means to get things done.
Tony Distefano Had a Change of Heart
Tony Distefano was a person who was rolling around with the wrong people. He used to have gambling debts, beat up people, get beaten up, and serve jail sentences.
But with time, he managed to leave all of this behind and is currently leading an everyday life. Chris shared that his father changed because of his wife, and he is now the person his wife made him become.
However, it seems like he has not entirely changed. Chris jokes that if anyone wants to see the vintage Tony Distefano of the late 1980s, they should go to a Yankees game with him and experience his rage when the Yankees are losing.
Just said to my Dad that i think Mahomes is hotter than Brady, and he threw me out of the house lol. Didn't know he was such a big Bucs fan. — Chris Distefano (@chrisdcomedy) February 8, 2021
Moreover, Chris disclosed in October 2020 during a Your Mom's House show that his father was about 73-74 years old and had a diabetic heart condition. He added Tony lived in New York for a long time and recently moved to Tampa, Florida, with his wife [Chris' stepmother].
Is Chris Distefano Gay or Does He Have a Girlfriend?
Distefano has talked about the topic of gay in many of his interviews and appearances behind the cameras. Talking to Bad Friends Clips in 2020, he clarified that he was lying previously when he was kidding about being gay, but the hosts Bobby Lee and Andrew Santino pulled his legs bringing up points about how he might be gay.
In the interview, Distefano also explained that he was an "emotionally gay" person who connected more with the guys had intimate physical relationships with women.
In addition to that, he pointed out that he was not gay but liked Democrats, implying that the group was mostly gay, after saying "I don't know ."
Similarly, Distefano has used sarcasm many times when talking about the matter of his sexuality.
So, many fans have been relating the way he has talked, behaved, and made comments about his sexuality to him being a secret bi-sexual. 
From what we know, he has had public relationships with multiple women till now.
His current girlfriend and mother to his two children (daughters Deliah born in 2015 and Violette Luna born in 2021), Jasmine Canuelas, @jazzymethod, a certified personal trainer, was also seen in his Chrissy Chaos podcast in January 2023.
And they are often reported as having married in 2015, but they only moved on together at the time. They haven't married yet and are happily dating one another.  
Chris' girlfriend's nickname is Jazzy and she had a son Tristan before her relationship with Chris, but the name of the father remains unrevealed. 
During the podcast, the pair also touched upon the subject related to him being possibly gay. He asked her if she thought he was gay and she implied it was possible due to his remarks and stories she heard relating to him being gay.
The pair also revealed that they had on-again-off-again relationships before going separate ways into the dating world for two years. After that, they came together and had another child. They have been together for more than eight years now in total. 
Get tickets to Chris Distefano's comedy tour and check out his merch if interested on his website Chris Comedy.