Director Chloé Zhao Recalls Famous Chinese Poem in Her Oscar Acceptance Speech
Zhao become the first woman of color and Asian descent to win the much coveted Best Director Oscar at the Academy Awards.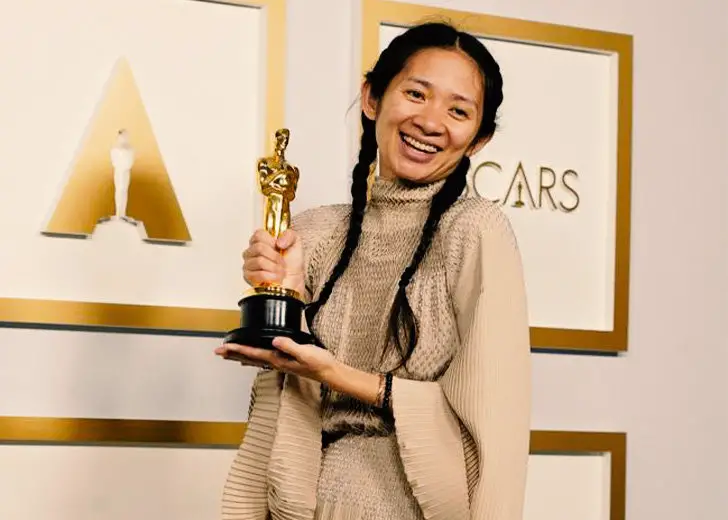 Congratulations are in order for Chloé Zhao.
The Chinese-born filmmaker who told the story of real-life nomads traveling across the U.S. looking for work in Nomadland has become the first woman of color and Asian descent to win Best Director at the Academy Awards.
Her win comes 11 years after Kathryn Bigelow became the first woman to win the best director for The Hurt Locker. 
In her best director acceptance speech on Sunday, Zhao recalled her childhood in China in which she and her father would play a game where they would memorize classic poems and text and try to finish each other's sentences.
She then recited one that translates into, "People at birth are inherently good."
Zhao then added that she finds goodness in everyone she meets and dedicated her win to all the people who held on to it despite its difficulty. 
Zhao Now Needs to Win over China
Zhao's nomination was initially met with universal applause in her birth country China with state media calling the filmmaker "The pride of China."
Chinese film authorities had initially approved the theatrical release of her critically acclaimed film Nomadland on April 23,
But the release has been put on limbo ever since a backlash began after Chinese online sleuths brought up old interviews in which they claimed Zhao had slighted her homeland, calling it a place "Where there are lies everywhere."
And they dredged up another more recent interview with an Australian website in which Zhao, who was quoted as saying, "The U.S. is now my country, ultimately."
The Australian site later clarified that it had misquoted Zhao, who had said, "Not my country." But the damage was done.
Chinese authorities reacted to Zhao's critical remarks by ordering nationwide censorship on the Oscar-winning director and her movie Nomadland.
A post about her victory by film magazine Watch Movies, with over 14 million followers, was live for at least an hour before it disappeared. 
The hashtag 'Chloé Zhao wins Best Director,' was replaced with an error message saying, "According to relevant laws and regulations and policies, the page is not found."
With Such a Ban, Zhao's Marvel Studios Eternals Future in Trouble
The Chinese government has always kept tight reins over information and media, increasing sensitivity to perceived slights and criticisms from the West. 
This also means that moviemakers are forced to walk a fine line, as there are stringent guidelines about what China will and will not allow in theaters.
The success of a movie depends highly on China's market, as it is the second-largest movie market outside of the United States, which is why studios need to secure a release date in China. 
China's decision to ban everything Zhao might not have not come at a more unfortunate time as her next big feature film Marvel Studios' Eternals that cost hundreds of millions to make, requires acceptance from the lucrative Chinese market. 
Although it has not officially been confirmed if Eternals will be allowed in the Chinese market, Zhao will need to clarify her statements soon if she wants them to.