Carlos Rivera Couldn't Care less about His Infidelity and Homosexuality Controversy
Popular Mexican singer, Carlos Rivera was once mistaken to have come out of the closet despite his solid romance with La Academia colleague Cynthia Rodriguez.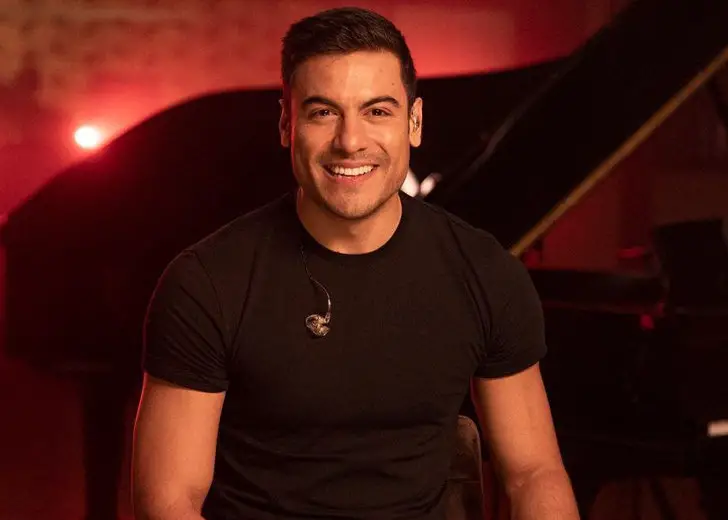 Carlos Rivera, a Mexican singer, came into the limelight after winning the third generation of La Academia. Things have never been the same since then for this Mexican heartthrob, thanks to his hits like 'Y Si tu Supieras' and 'El hubiera no existe.'
The singer also met Cynthia Rodriguez while in La Academia and has been in a relationship with her ever since. Their relationship has been fuelled up repeatedly by sporadic rumors of secret weddings, the singer's infidelity, and pregnancy news.
Recently, the singer was mistaken to have come out of the closet and revealed himself as gay. The confession of Jose Monti Montanez, a famous Mexican singer, regarding his sexuality has a role to play on this.
Homosexuality Confusion of Mexican Singers Carlos Rivera and Jose Monti Montanez
Despite maintaining a solid romantic relationship with TV personality Cynthia Rodriquez for quite some time now, Rivera has been repeatedly questioned about his alleged homosexuality. 
These allegations and rumors peaked to a whole new level when another singer made his homosexuality public. The singer was none other than Jose Monti Montanez, a former member of Menudo, who admitted being gay after refuting it for many years.
However, for some time, Rivera was mistaken in place of Montanez, making everyone think Rivera had admitted being gay.  As a result, the La Academia winner had to endure criticism and ridicule of being gay from users of several social media networks.
Former 'La Academia' Member Toñita Also Questioned His Sexuality
Despite the singer denying the gay claims and his relationship with Rodriquez, many still question his sexuality.
In that race, Toñita, a former member of La Academia, added some more spice while speaking in the program Gossip No Like in February 2021. In the interview, she questioned Rivera's sexuality and the veracity of the courtship with his girlfriend. 
Rivera Reportedly Cheated on Girlfriend
The homosexuality conundrum wasn't the only controversy that Rivera was called out for. The message that the singer wrote to Danna Paola on her Instagram stirred another controversy for him.
In the message, the 'I was waiting for you' singer praised Danna Paola, which didn't go down well with the netizens.
Rivera apparently commented 'That' accompanied by an emoticon of a dancing woman on a dancing video of Danna Paola.  
This controversy divided his fandom. And while some fans demonstrated that they would like the two to be in a relationship or do a duet, other fans were outraged and called him out for not venerating his relationship with Cynthia Rodriguez. 
Many of these biased rumors were brewed because Rivera and Rodriquez are not much forthcoming about their romance in the media. In addition to the Danna Paola case, the popular Mexican singer was also criticized for being disloyal to Cynthia Rodriguez by cheating on her with a man.
Carlos Rivera on His Infidelity and Homosexuality Controversy
Being a private person, he, initially, Rivera chose to stay quiet on the infidelity and homosexuality controversy around him. As the circumstance progressed, he responded to the gay rumors, suggesting even if he admitted to being in a relationship, he would still be a subject of gossip. Thus, the comments don't interest him.
The singer also revealed that he couldn't care less regarding what negative people are conveying about him. Going on, he showed his disinterest in the comments that he has received. 
In the end I think I'm not someone who is  there to explain anything. As long as you know what you have, the person you love, as my song says: 'That what is ours stay ours'.  [Translated]
Although Rivera was once mistaken to have come out as gay, it's now all in the past!