Cara Delevingne Has A 'MADE IN ENGLAND' Tattoo — The Actor's Tattoos Explained
Supermodel Cara Delevigne got her first tattoo in 2013 and has more than 20 inked on her body to date.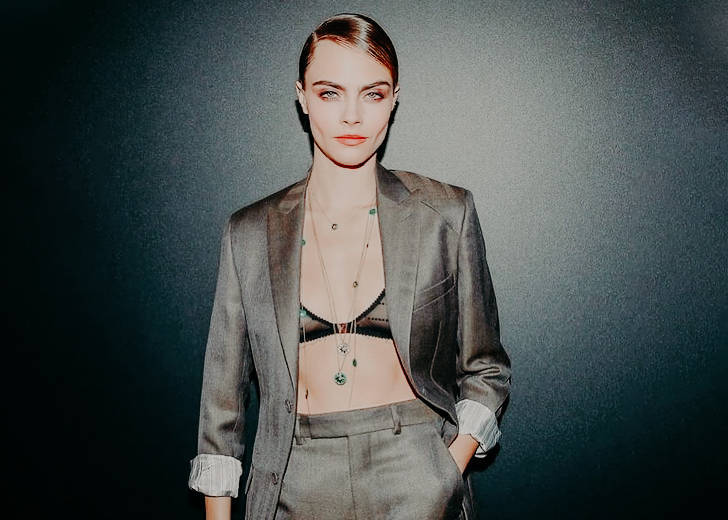 One of the most loved personalities of the fashion world, Cara Delevingne sports all kinds of looks for her modeling and acting, or just for the sake of it. However, the supermodel has a special love for getting inked.
Since getting her first tattoo in 2013, the supermodel went on to get over 20 tattoos, to date. Ranging from just words and statements to artworks and coat of arms, her body has been inked by some of the best tattoo artists of the world, including Bang Bang and Dr. Woo.
Delevingne's First Tattoo
Delevingne got her first tattoo in 2013 at Bang Bang Tattoos in New York City. She took to Instagram to thank Bang Bang, the tattoo artist, and Rihanna while showing off the lion that was inked on her right hand's index finger.
The tattoo is symbolic of her astrological sign, Leo, and got her started on her love for getting inked.
A Matching Tattoo With Jourdan Dunn
In 2014, Delevingne got a matching tattoo with her BFF, Jourdan Dunn. The two models got the same "DD" inked on their hips. It's thought that the double D stands for their last names.
This tattoo was done by Bang Bang as well.
Toe-mojis With Margot Robbie
Dunn isn't the only one of her friends that Delevingne got tattooed with. While the supermodel didn't get a matching tattoo with actress Margot Robbie, the two inked each other while shooting for Suicide Squad (2016).
She even posted a picture with Robbie on Instagram, where they both showed off the smiley faces on their toes. 
Robbie also talked about it on The Tonight Show Starring Jimmy Fallon. The actress bought the tattoo gun from eBay. She has had no formal training but has inked dozens of people, including the Suicide Squad director David Ayer.
Delevingne Inked Her Mother's Name On Her Bicep
Delevingne also has a tattoo of her mother's name, Pandora, on her left bicep. She got it while out with her friend, singer Rita Ora.
The model also has five white dots tattooed on her ribcage, each of which represents a family member. And right below the five dots, there's a coat of arms with the letter "D" at the bottom and a crown and wings at the top.
Artworks & Text Tattoos And Their Meanings
Aside from the aforementioned tattoos, the supermodel also has a bunch of other artworks and texts inked on her body.
Delevingne has tattooed "MADE IN ENGLAND" and "BACON…" at the bottom of her feet. The former shows her love for her homeland, while the latter expresses her love for bacon.
She has the initials of her name, Cara Jocelyn Delevingne, tattooed on the outside of her right hand. Aside from her initials, she also got "AC," which were supposedly the initials of her ex-girlfriend, Annie Clark, on her left pinky finger.
Several of Delevingne's tattoos are based on animals. Aside from the lion on her index finger, she has Emil Landgreen's artwork of an unclothed woman cuddling a tiger, an elephant, a wasp, a dove, and a snake, which represents a new start. She also has a Yantra tattoo below a pair of realistic eyes on the back of her neck and a diamond and southern cross-stars on her right ear.
The supermodel also has several words and phrases inked on her body. Her right bicep has "Breathe Deep" tattooed in white ink. The word "Silence" is tattooed on her wrist, and "XII" adorns the back of her right ribcage. Daniel Tucci, the artist who worked on the "XII" tattoo, said that Cara told him 12 was her lucky number.
She also has the phrase "don't worry, be happy" inked across her under-boob.