Anthony Kiedis's tattoos represent different stages of his life
Red Hot Chili Peppers frontman Anthony Kiedis is covered in tattoos. The rock-and-roll star has a great affinity for the inked works and says he wants to get more in the future.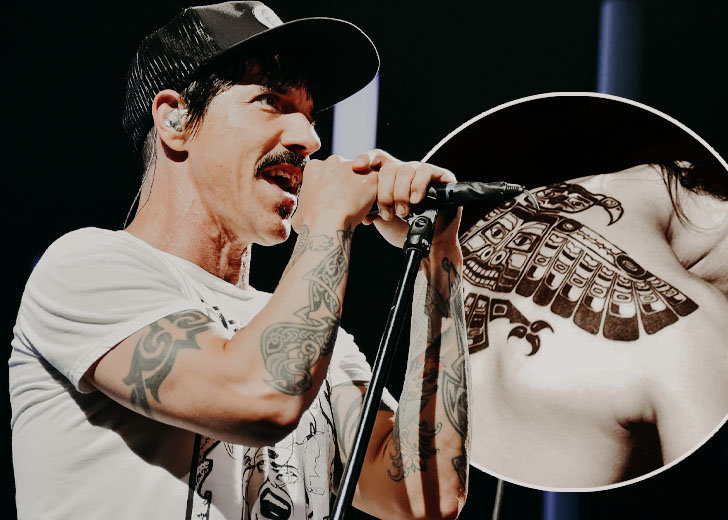 Anthony Kiedis, the vanguard of Red Hot Chili Peppers, isn't just famous for his singing and songwriting; his tattoos, too, make for headline fodder. For Kiedis, tattoos act as a means to preserve particular moments in his life, and he doesn't regret getting any of them.
Kiedis' Tattoos and What They Represent
Kiedis has bold, blackwork and vibrant body arts with elaborate designs that lie in a symmetrical layout on his arms and throughout his body. 
The tattoos on the performer's body reflect different aspects and stages of his life. Several of them resonate with his roots and represent his outlooks on life. For instance, the Indian Chieftain design tattoos on his arms reflect his North American heritage, while the Koi Fish tattoo on his forearm is a symbol for overcoming adversity. 
Among the many tattoos Kiedis has on his arms, Chief Sitting Bull on his right arm was the first one the singer had gotten inked, back in the 80s

Anthony Kiedis getting a tattoo of Chief Joseph (Photo: anthonykiedis.net)
The singer's back is adorned with a massive cubic native-American Indian image. The back tattoo has several interpretations over the internet. The most common one is that it is an Inca/Aztec falcon, while a few claim it is a Haida thunderbird or a totem pole design.

Anthony Kiedis sports a giant tattoo on his back (Photo: Ranker)
The next tattoo on the list is the asterisk tattoo on his right wrist, which is probably the most copied among his fan base. The most accepted explanation of the tattoo is that this symbol is based on the Star of Affinity/Chaos.
The famous vocalist, who enjoys seeing his tattoos fade with age, has a Celtic style band tattooed on his upper right arm and upper left arm. The one on the left arm mirrors the band on the other side but features a heart rather than the fleur-de-lys style design. 
The Rock and Roll Hall of Famer also has a tiger tattoo inked on his inner right forearm, speculated to be inked in 2012 to help him get over a breakup with his girlfriend. But the tiger tattoo also represents his Chinese birth sign and the Thai tradition of tigers bringing longevity and protection to the wearer.
Besides that, a beautifully rendered Koi Carp design placed on his inner left forearm was the latest addition to his arms. 
Kiedis' Favourite Tattoo Master 
Henk Schiffmacher, aka Hanky Panky, a tattooist based in Amsterdam, Netherlands did several of Kiedis' tattoos. A close friend to the singer, Schiffmacher is a tattoo icon in his hometown who is the one-stop solution for all of Kiedis' ink queries.
The most recent piece of body art that Kiedis got done was that of a pyramid in 2019. The ink master took to his Instagram to share a photo of him working on the said pyramid tattoo.