Anjelah Johnson's husband carves niche of his own
Anjelah Johnson's husband has fabricated name and fame on his own in the world of music.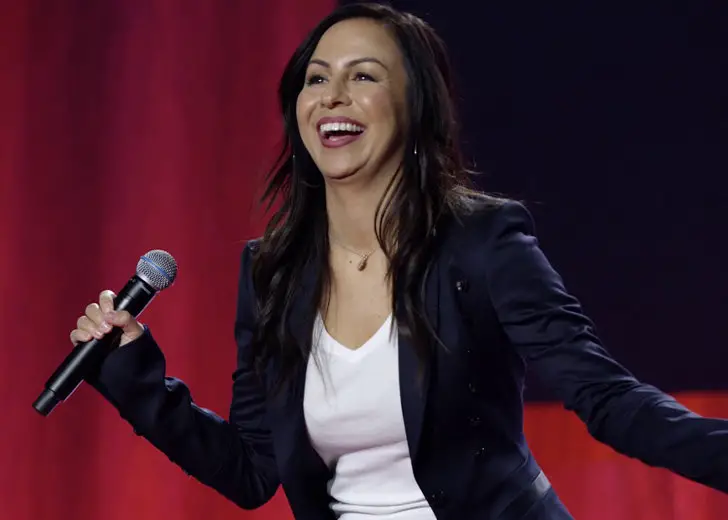 Manwell Reyes Has Earned More Fame For His Music And Other Talents Than He Has For Being Anjelah Johnson's Husband. 
Many recognize Manwell Reyes as the husband of the famous actress and comedian Anjelah Johnson. However, Reyes commands a massive fan following that loves and respects him for his contribution to music.

                                              Manwell Reyes (Source: Nailbuzz)
Feathers in His Cap
Manwell Reyes is the founder and vocalist of the popular Christian hip hop music band 'Group 1 Crew.' The band started performing in 2003, and since then, they have played in front of a crowd of over a million people and sold more than 250k records. 
The 5-time Dove Award-winning group has a significant following on social media, and as the main songwriter, Manwell's blog has a huge number of followers. He even has his own hashtag, #MindofManny, which continues to be picked up by fans. 
Over the years, the group has released many singles and albums that have been commercial successes, including songs like Love is a Beautiful Thing, His Kind of Love, He Said, and Dangerous. Reyes himself has dropped multiple singles during his time with the group. 
Making it on His Own
Fans were disappointed when he decided to part from the group in 2017 to pursue his own dreams. Since then, he has kept himself busy by launching his own podcast called Nights At The Round Table in 2019, which focuses mainly on faith, love, relationships, among other things.
From Rebellious Child To Successful Young Man
Although he was born in Germany, Reyes was raised in Florida and was a rebellious child growing up. 
Reyes has worked tirelessly towards establishing and solidifying his identity in the music industry. Although music has brought him fame, it isn't his only talent. He also has an amazing taste in fashion and hosts Nuvo TV's The Collective, where he is responsible for finding the latest trends in fashion and music. 
He is also an actor and has starred in two movies — Mom's Night Out and Restored Me  — by Sony Pictures. 
The First Time Reyes Set Eyes On His Wife 
Along with success in his career, Reyes' romantic life also bloomed. Reyes and Johnson started dating two years after they first met when a mutual friend set them up for a date. The couple kept meeting for a while, and their love continued to bloom. They got married in June 2011 in California. 
They have been happily married for almost a decade now and have surprised fans with zero rumors of fights between them. They have successfully kept any relationship concerns they may have private. 
However, the couple still doesn't have any children of their own, given their hectic schedules. They make up for it by spending quality time with their nieces and nephews. They also have a dog called Banzo Bean Reyes, who is almost like their child and keeps them busy. 
Reyes's passion for music has led him to be a household name in the music industry and a massive fan following.