Andrea Tantaros Age, Measurements & Obscure Comment About Weight Loss
Andrea Tantaros was the favorite FOX News host of many people, not only because of her intelligence but also because of her gorgeous looks. But, how tall is Tantaros, and how much does she weigh? And what did she say about weight loss in 2012 that got her in a bit of trouble?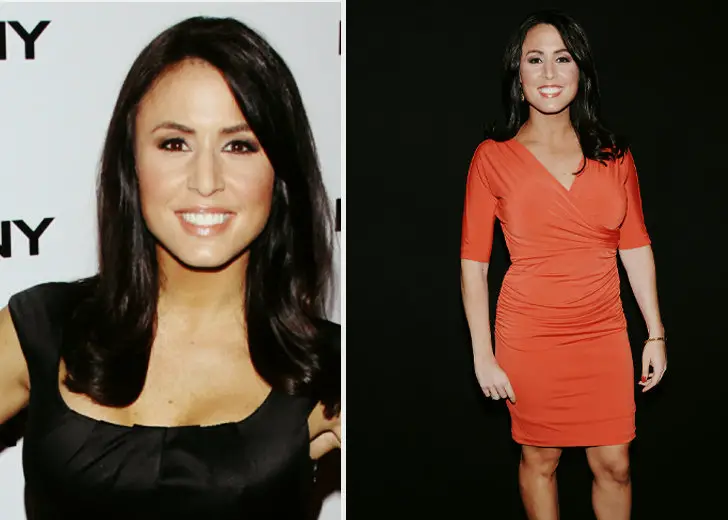 Former FOX host Andrea Tantaros, known for her spirited political commentaries, is no stranger to controversies. She has made headlines for her lawsuit against FOX2, which she is still battling to get heard in the open court.
But apart from that, the popular host of FOX's Outnumbered is also remembered for her on-screen presence, her charming good looks, and a well-maintained physique. While Tantaros is known to have a sense of humor when it comes to her relatively short-stature, she has garnered criticism for her supposed-witty remarks on weight issues.
Andrea Tantaros Isn't Much Bothered By Her "Fun-sized" Height
Andrea Tantaros, the TV host of Greek origin, is, as already stated before, a beautiful woman. Therefore, interest from people regarding her physical measurements is not at all surprising.
However, despite all the curiosity, Tantaros has never been that explicit about her body measurements. Even though she appeared daily on national television for a long time, she always kept a tight lip when it came to revealing her true measurements.
Anyone who sees her will, however, notice that she is relatively short. And Tantaros, too, has addressed comments about her height in good humor. 
On July 15, 2015, on her picture tweet about her show Outnumbered on Fox News Channel, one user named Duy Vuitton replied saying, "You're fun-sized... I like that."
In response, she came back with a humorous "Ha. Is that code for I'm really short?"
Then, Duy Vuitton again responded, this time possibly trying to come off as cheeky. He said, "the word short has such a negative stigma... I prefer to call you fun-sized since you're also cute."
However, another user named Jamie Mellor said that the term 'fun-sized' was a code for her being small. He said, "no, it is code for you being small. There is a difference- RoseAnne was short but was not small. You are great the way u r"
There is also no information regarding her weight and body measurements. We can see from her pictures on Instagram that she has a slim build and is not overweight, even if the pictures are from before November 2016.
Tantaros Faced Backlash For Comment On Food Stamps And Weight Loss
During an episode of The Five on Fox Business, which aired the day before Thanksgiving in 2012, a panel including Stuart Varney and Andrea Tantaros was discussing Cory Booker's challenge to spend a week on food stamps as a demonstration of how difficult it is to eat a nutritious diet on a low income.
However, Tantaros talked about how living on food stamps, i.e., $133 a month in usual cases, would help her lose weight.
Varney posed the question, "Could you live on 133 bucks a month for food?" during the discussion.
She replied, "I should try it because do you know how fabulous I'd look? I mean, the camera adds ten pounds. It really does. I would be looking great."
This was clearly a sensitive subject, and her comments sparked controversy on social media. As Daily Mail documented, many Twitter users were pretty mad at her.
One user came at her in a now-deleted tweet, saying, "Lucky you can diet by choice, not poverty." Another decided to have a go at her looks and said, "She can lose lbs, but she can't lose Ugly."
Still, the TV presenter was ready with her own comeback. "It's amazing how stupid & humorless some liberals can be. I'm asked if I can live on $134/mo in food, WHICH I HAVE, and they go crazy, Really?" she tweeted as a response to the backlash she was getting. This tweet has also been taken down since. 
And later, on another tweet, she posted a link to an article from June 2012 whose headline was "USDA Ad Says Food Stamps Will Help You Look and Feel Good" with the words "Food stamps were sold as a fitness plan to "look great" by our liberal, dense government- remember?"
Andrea Tantaros Abandoned Her Family's Line Of Work For Journalism
As we have seen how Tantaros doesn't shy away from defending her words, she is also determined when it comes to making her life choices.
Born on December 30, 1978, in Allentown, Pennsylvania, to a family of restaurant owners, Tantaros chose a career different than that of her parents. Her father passed away on 5 December 2009 at age 65.
Tantaros attended Parkland High School while also working on one of her parents' restaurants. But, her passion was not in the restaurant business but elsewhere.
To follow her interests, she admitted to Lehigh University. Her major subjects were journalism and French. She also wrote political commentary for her college newspaper, which were her baby steps towards her career as a political commentator and host on Talk Radio Network and FOX Network.