Who Is Amberly Snyder's Husband? One Mistake Changed Her Life
Amberley Synder is a renowned American equestrian. She has competed in different horse racing competitions and earned fame. Her life changed when she was caught in a life-threatening accident, which made her paralyzed below the waist. However, she did not lose her hope and began riding horses after just 4 months. Her journey was later converted into a Netflix biopic entitled Walk, Ride. Rodeo. Till now, the passionate rider is single and doesn't have a husband.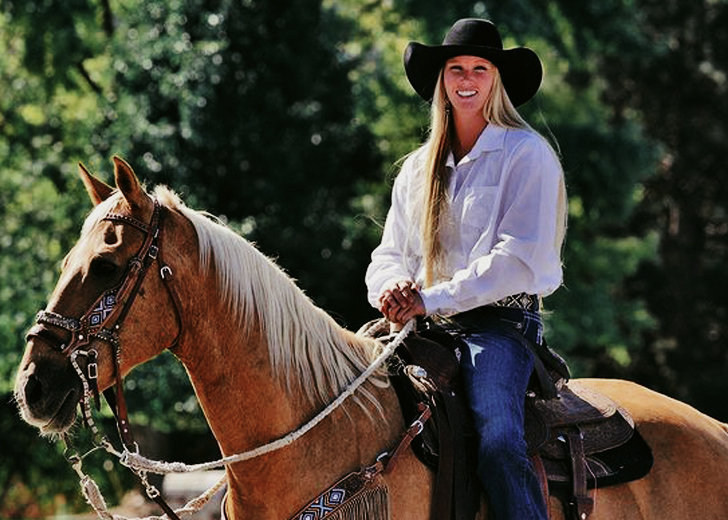 Amberley Synder, born in January 1991, is a renowned American equestrian. She became quite popular as a professional rodeo barrel racer who won the National Little Britches Rodeo Association's All-Around Cowgirl World Championship in 2009.
However, she got immense limelight after her story was covered and converted into a biopic movie by Netflix. The 2020 biopic entitled Walk. Ride. Rodeo. gave audiences a full glimpse of Amberley's life-threatening accident and the struggles she went through as an equestrian.
The biopic not only furnished details of the trials she had to go through but also brought to light her relationship that the cowgirl hasn't yet acknowledged in public. 
The Fateful Accident That Changed The Star Cowgirl's Future Forever
Everything was going well for the southern California native, Amberley Synder. She had just become the rodeo world champion in 2009. She had just graduated from high school and was looking set to go into college. To top that odd, she was also ready to serve as the Utah FFA State President. All this at the age of 18 and the whole world was still ahead of the cowgirl.   
However, that was all to change one fateful day that was to hit the prodigy sideways. On January 10, 2010, Amberley was on the road, driving to the Denver Stock Show and Rodeo. She had full safety precaution, but, after she stopped and filled the gas, she forgot to put on the safety belt that later became the most fatal mistake she ever made.
As she was driving through Sinclair, Wyoming, she looked down for a second to check on the map. When she looked back up, she realized that she was in the wrong lane and her car was heading straight towards a metal beam. When she noticed that, she immediately tried to get back towards the right lane and avoid hitting the metal beam. Unfortunately, while doing that, her vehicle slid off the road and rolled, due to which she got ejected from the vehicle and got slammed right into a fence post.
Following a long emergency surgery of five hours, the doctors were able to save her. But, there was more than that. The doctors said that she would never feel anything below her waist due to the impact she faced when she was slammed into the fence post.
Amberley Almost Gave Up Rodeo After Being A Paraplegic
After being caught up in such a severe accident and being paralyzed below her waist, it impossible for almost everyone to get back. However, in the case of Amberley Snyder, she managed to get back to horse riding after just four months. 
Following the accident, Amberley did not lose her hope of horse riding and competing and decided to take physical therapy to balance herself in the saddle. But, it was not that easy too. When she first rode her horse, she felt abnormal and broke down. That experience was so dismantling for her that she even decided to sell off her horses. 
But, she was forced to change her decision due to her mother, Tina Snyder, who refused to accept Amberley's decision. Eventually, her whole family — her father, mother, and five siblings — began to motivate and cheer her up.
Due to all the positive aura around her, she again felt motivated to ride horses. Thereafter, she retrained her horses so that they could understand her commands from her voice and hands, instead of her legs. Since then, she has not lost hope and has been eager to face challenges.
Undeterred, Amberley continued her Bachelor's degree in Agriculture Education in May 2015 and completed her Master's Degree in School Counseling in 2018.
As for her horse-riding career, ever since she got back on her horse, she has taken part in different competitions across the western United States. In 2015, she was even voted as the fan exemption to take part in the world's richest one-day rodeo, RFD-TV's The American. Amberley ranked 19th in the barrel racing event by achieving a time of 15.369 seconds.
Does Amberley Snyder Have A Real Life Husband?
The passionate horse rider, Amberley Snyder is yet to share her wedding vows to a husband. The questions regarding her marital status began when her biopic, Walk. Ride. Rodeo. was released. In the biopic, it was shown that Amberley had a love interest named Tate Watkins, whose real name was changed for the movie.
However, till date, Amberley has not spoken anything related to the topic. She also hasn't made anything public regarding who she is dating so this effectively means she is single at the moment.