Reporter Amanda Balionis Energizes Healthy Goals By Practicing Yoga
"There are things in life that sports, dogs & coffee can't fix." As per those words on Amanda Balionis' social media, it's clear that she is passionate about sports and dogs. She is a member of Team Callaway, a golf manufacturer and the president of Puppies & Golf, an organization aiming to dedicated to building companionship between humans and dogs.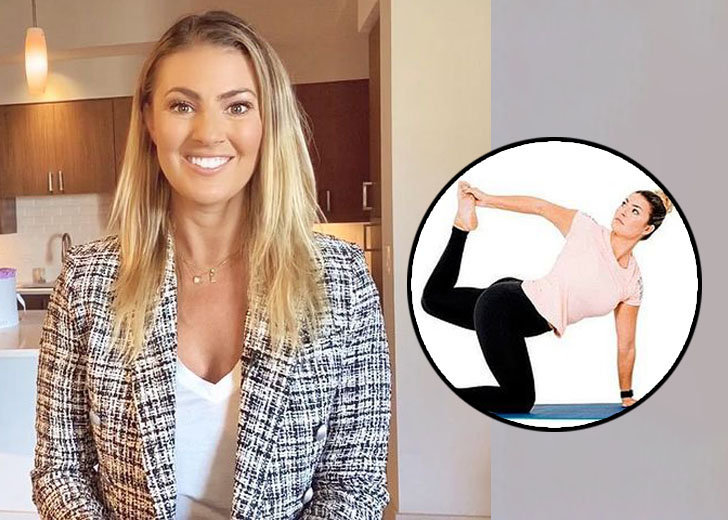 "There are few things in life that sports, dogs & coffee can't fix." These words are CBS Sports announcer Amanda Balionis' Instagram bio, and those words sum her up pretty well. 
Being a sports enthusiast who has played in Division II, Amanda mainly reports golf and does sideline reporting for select football games. She is also a yoga instructor and plays golf. But wait, the list goes on.
The CBS Sports announcer is also a member of Team Callaway, a golf manufacturer, and used to work as their in-house digital content creator. On top of that, she is passionate about sports and has a soft spot for dogs, and often advocates for adoption.
Amanda is a Certified Yoga Instructor
Amanda obtained her 200-hour yoga teacher certificate three years after she first discovered the practice. She became certified in Baptiste-style training and has been conducting weekly yoga classes for beginners.
The reporter has also collaborated with Golf.com in conducting yoga classes for golfers, which she described as accessible and beneficial to golf swings and, with consistency, would make golfers flexible and powerful in the golf game. 
Yoga helped Amanda to be Confident in Golf
In an interview with Golf.com, Amanda shared about her dream-coming-true moment of being invited to play the historic course at Oakmont Country Club. At first, she was nervous because of the monumental moment, but she gained calm in such a difficult situation, thanks to yoga. Then, she enjoyed a round of golf with two gracious members.
The thirty-five-year-old also explained in the same interview that she had gained more mental benefits and had become physically stronger from practicing yoga. 
Amanda further explained that golf and yoga are similar because both require a strong mental game. She encouraged golfers to practice yoga as golf is a game that requires physical and mental strength, and practicing yoga off the course could help maintain control over the course.     
Amanda's Aims to Connect Human and Dogs for a Lifetime
Amanda is the president of Puppies & Golf, an organization aiming to build companionship between humans and dogs. According to the organization's mission, they protect and advocate for dogs in need of companionship by supporting and promoting organizations dedicated to connecting humans and dogs for a lifetime of purpose and love, emphasizing military veterans. Several of the manufacturer's merchandise and products contribute to Amanda's mission of helping dogs via Puppies & Golf.
The CBS sports announcer is also said to volunteer at a no-kill animal shelter in every city she visits during her work. She documents all the dogs that need help in her Instagram stories, advocating for adoption.
Aside from helping dogs find new homes, Amanda also conducts yoga classes to raise money for different charitable organizations.
Golf is More than Just a Passion for Amanda 
Born in Pittsburgh, Amanda was introduced to golf when she was nine years old. Her golf fanatic parents signed her up for golf lessons, and she has been passionate about it ever since.
Amanda joined the PGA TOUR (organizer of the main professional golf tours played by men in the United States and North America) as an in-house reporter and host in 2011. There, she produced and reported on the tournament highlights, shows, and events.