'Someone Has To Die' Star Alejandro Speitzer Puts Gay Rumors To Rest — Meet His Girlfriend
Alejandro Speitzer was wronged as gay due to his on-screen portrayal of LGBTQ+ characters. But he puts gay rumors to rest. How?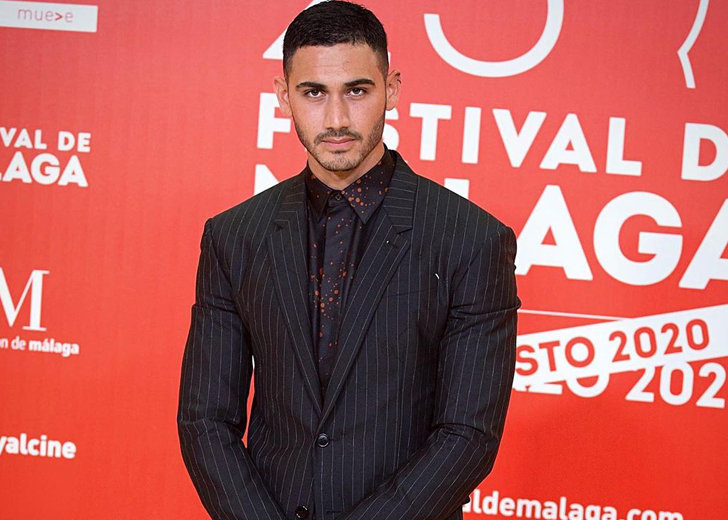 Mexican actor Alejandro Speitzer, who was often speculated as gay, has finally put all the gay rumors to rest, since revealing that he was dating actress Ester Expósito.
But, how did the gay rumors surface in the first place, and what more you need to know about El Club star's romantic affair. Find out!
Speitzer Portrayed Gay Characters Which Led to Gay Rumors
The rumors of Speitzer's gay rumors started to take shape out of fans' curiosity when the dashing actor portrayed a gay persona, Ray Dávila, in the 2011 TV show, La Reina Del Sur.
He performed a passionate on-screen kissing scene with fellow actor Emmanuel Orenday, who portrayed Danilo Márquez.
The rumor was backed when the actor took to his Instagram to share a snap for LGBTQ+ pride month on June 29, 2019. In the snap, he was seen kissing another actor by the name of Erik Elias.
The snap was accompanied by a fitting caption that read, "Amor es Amor," which translates to, "Love is love." The actor took a stance and even concluded the caption with "#pride."
Speitzer also portrayed a gay character named Gabino Falcon in the 2020 drama, Someone Has To Die. In the show, his character suffered a tragedy as he fell in love with a male cast during an authoritarian regime where homosexuality was considered a crime.
He Put Rumors to Rest by Disclosing His Girlfriend
After the rumors of him being gay took the wind, the 26-year-old actor revealed that he was dating a girlfriend named Ester Expósito.
The couple was first spotted together in October 2019 on Madrid's streets, where the actor was seen spending time with Expósito and her mother.
The rumor of them dating set ablaze when the two love birds had an intimate moment together — and Expósito Instagrammed the moments through a collage in March 2020.
The image featured the beautiful actress in the handsome brunet's arms before enveloping each other in a passionate kiss.
Although the rumor was all but confirmed at that moment itself, the Spanish actress took to her social media to post a picture that formally connected all the dots.
On July 12, 2020, she posted a snap of Speitzer accompanied by the caption, "Roma e tu," which translates to "Rome and you."
Most recently, on January 26, 2021, the actor, like always, expressed his love for Expósito, posting a series of adorable pictures and videos of the couple on Instagram.
Suddenly I found this being able to illuminate everything in its path. Suddenly I am fortunate to be able to walk by your hand," Speitzer wrote in the caption. He added, "Happy return to the sun my life. I love you.
Speitzer and Expósito are On-Screen Married Partners
The real-life love birds have shared the screen, too, as Speitzer and Expósito portrayed Gabino and Cayetana Aldama, respectively, in the Netflix series Someone Has To Die.

Alejandro Speitzer and Ester Exposito in Alguien tiene que morir (2020). (Photo: IMDb)
In the show, the two are arranged married to each other.
Editor's Note: One should take into account that people may fall into a diverse sexual orientation spectrum. Just because someone is dating the opposite gender may not mean that the individual should have the majority sexual orientation. Therefore, we should understand that it is the right of any individual to determine and disclose (or keep secret) their sexual orientation. 
Important Note: This article is not written to subjectify or objectify individuals or to dehumanize them. Hollywoodmask and the author believe that people have the right to choose their sexual orientations, and nobody should second guess others' sexual orientations without consent. We understand and respect the viewpoints of the LGBTIQ+ community and want to emphasize that this article was written only to relate to one of the most queried questions about the article's subject.