Adam Beach's Wife Often Takes the Mickey Out of Him on Instagram — See Her Funny Posts
Canadian Actor, Adam Beach's wife Summer Tiger often shares funny posts of her husband with quirky captions on Instagram.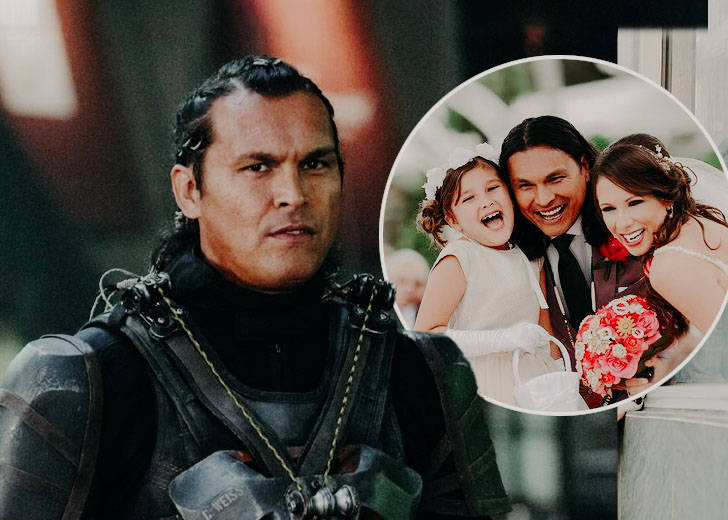 Canadian actor Adam Beach's wife Summer Tiger often shares funny posts of her husband with quirky captions on Instagram. 
The Smoke Signals actor is living a happily married life with his wife Tiger and daughter Phoenix. And his love for the family can be seen all over his Instagram. His better half also often shares pictures of Beach with cute yet witty captions. Let's look at a few of his portraits shared by Mrs. Beach.
The Cheerful Relationship between Beach and His Wife
In May 2020, Tiger shared a close-up picture of the actor wearing a black t-shirt and black glasses. Beach posed like he was thinking about something, looking away from the camera with his hand on his chin.
In the caption, the Texas Rangers star's spouse addressed that when the picture shows up on Beach's account, someone was bound to comment "Zaddy." "So I'm beating you to do it," she added with three laughing with tears emojis. 
Basically, "Zaddy" is an urban word used for an attractive and fashionable guy with swag and sex appeal. Beach also jokingly commented that he was "just getting in character," and that was all. Of course, the tongue emoji diffused the seriousness of the message. 
Similarly, in April 2019, Tiger shared another picture of her partner. This time he was shirtless in the swimming pool, wearing a pair of red shorts and swimming goggles. He had a funny expression and posed a victory sign at the camera with his right hand. 
Tiger described her hubby as a sexy man as she captioned it, "sexy and he knows it." Some comments were just as funny as his expressions were. One comment read, "is that his jump-in-cold-water face?". Another user wrote, "Does he have a leg cramp that just won't go?"
In May 2017, the Suicide Squad actor's wife uploaded another funny picture of him indoors where he wore a black-colored Metallica t-shirt with grey pants. Beach flaunted his shoulder-length hair and carried a 'grey and red' bag pack and scuba diving equipment. Tiger teasingly wrote, "@adamrbeach and his dad-pack" with hashtags "#dadbod" and "#fitspo."
Beach Married Tiger after Two Failed Marriages
The Saulteax actor got hitched to Tiger in 2015 after dating for eight long years. The couple was blessed with a beautiful daughter, Phoenix, in 2008. The couple shared the wedding news on their Instagram. 
Beach shared a breathtaking family picture of their Disney fairytale wedding where the three were smiling at the camera under the white carriage. While Beach was in the middle, the girls wrapped their arms around him.
Tiger wore a white spaghetti-strapped wedding dress with a matching veil, and the actor wore a purplish-toned suit paired with a white shirt and black tie. Phoenix wore a cream dress with a flowered hairband and was also a flower girl at her parent's wedding.
Beach was previously married to Meredith Porter in 1999. Girlfriend turned wife Porter and the actor were blessed with two sons, Noah, 24, and Luke, 23. Eventually, the couple parted ways, followed by a divorce in 2002. 
Soon after the divorce with his first wife, the Manitoba native tied the knot with Tara Mason in 2003. The conjugal relationship lasted for four years as the ex-pair ended their marriage in 2007. The two didn't have any babies.