Comedian Beth Stelling Tattoo Memories Are Hilarious Yet Personal
Beth Stelling, a hilarious standup comedian and comedy writer, has a few tattoos on her body. She reveals one of these tattoos, which is a signature of her ex-boyfriend, and tells the hilarious story behind getting it.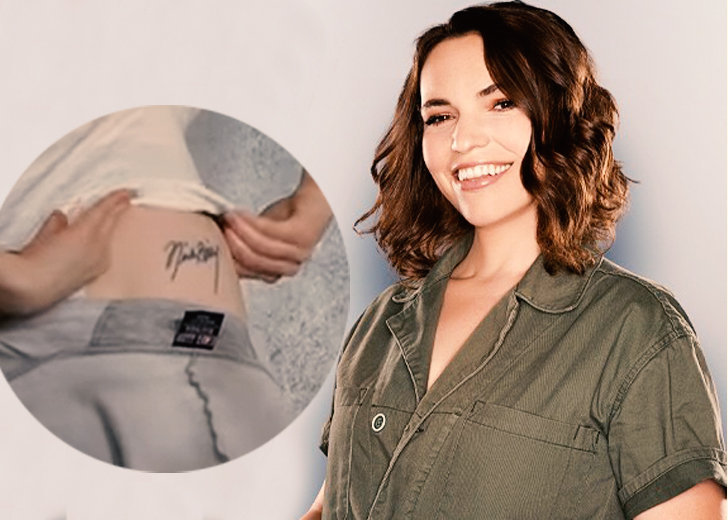 Beth Stelling is an American writer and comedian who is known for her comedy albums Sweet Beth (2011) and Simply the Beth (2015). She first made her television debut on Conan (2014)  then worked as a writer for HBO television series Crashing (2017). She also performed in various shows such as Jimmy Kimmel Live!, The Pete Holmes Show, Conan, and so on. 
Her comedy routines usually consist of a variety of subject matters such as relationships, sexuality, and personal problems, to name a few. One of those aspects that she frequently jokes about is a tattoo of her ex-boyfriend's signature on her back. 
Story Behind Beth Stelling's Back Tattoo
Stelling has talked about her tattoo in many of her standup routines, albeit never in much detail. But during episode number 20 of The HoneyDew Podcast, Beth went into a lot of topics in detail, chief among them was the story behind her infamous tattoo.
The podcast began with the topic of Beth's childhood, her father, and issues she  had to face in the past with regards to fat-shaming. Then, in the flow of the conversation, Stelling and Ryan Sickler, the host of the podcast, got into her love life.
When asked about a guy that she dated in the past, even before revealing his name, Stelling excitedly revealed his signature tattooed on her back. She explained her infatuation with the guy and even recalled the first time she saw him. She described him as having "beautiful blue eyes, tanned skin, and funny"; and even admitted to wanting to marry him immediately.
Stelling was so smitten by the guy; she revealed that she got the tattoo just three months into their relationship. She admitted to Ryan that she thought they were going to marry each other but went further to confess that her ex-boyfriend not liking standup was the crux in their relationship. 
Despite really loving him, she said she could not give up on stand up then as her career had started to take off with Conan and other television appearances. So, she broke up with him the next time she saw him, and that was the end of it. She said during the podcast that she hasn't talked to him ever since.
Further along into the conversation, she also jokingly said that she would later tattoo the names of Nick's wife, and kid beneath the existing one. Additionally, when the interviewer suggested that she fell too quickly for people, Stelling agreed with him— followed immediately with a quick joke about her attachment issues— "you can't always tell whether it's like, passion or alcoholism or mental illness."
Drawing Jokes From Absurdities
As a comedian, one of the things you do is create jokes from sad things and draw things to laugh about from past mistakes and absurdities. Since it takes a great deal of bravery to be vulnerable and make people laugh at one's own expense, Stelling said that she would never have it removed which is all the better for the audience, because it just means that they can get more laughs and perhaps a little inspiration to draw from their own past.