'Glee' Star Lea Michele Faced Severe Challenges during First Pregnancy
Lea Michele reveals the challenges she faced during her pregnancy in an episode of the Instagram live series BAP birth with Katherine Schwarzenegger Pratt.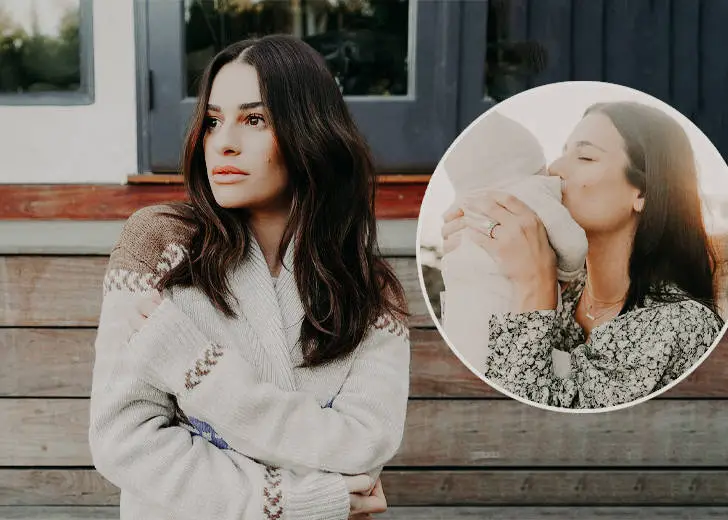 Glee star Lea Michele welcomed her first child with her husband Zandy Reich in August 2020. In a recent episode of BAP birth with Katherine Schwarzenegger Pratt, the actress got candid about the struggles she faced down the road. 
The Big News
The news of the actress' pregnancy broke out a month after her wedding anniversary with Reich. However, it wasn't until May that she posted the first picture with a baby bump on Instagram.
In the beautiful snap, the actress donned a stunning blue dress with floral motifs. Barefoot, Michele stood amid a green garden and tenderly held her baby bump with both hands. She flashed a gorgeous smile as she looked down.

Lea Michele announes her pregnancy. (Source: Instagram)
Michele announced the birth of her baby on August 27, 2020, with a monochrome shot of the newborn's foot cradled by the proud parents' hands.
The Challenging Pregnancy
In the BAP episode, the Glee alum revealed her pregnancy was full of terrors. Having been on birth control for 15 years, the actress struggled to conceive.

Lea Michele announces the birth of her son with a picture of the baby's foot. (Source: Instagram)
Once off the pills, Michele had some failed attempts at pregnancy that led her to a doctor. She was diagnosed with Polycystic Ovary Syndrome (PCOS).
After the heartbreaking diagnosis, Michele took increase her odds of getting pregnant. She tired acupuncture and watched her diet. She also had several surgeries, but unfrotunately, nothing seemed to help.
The actress was on the verge of giving up when she finally got the good news. However, the struggle was far from over. She would go through her lowest point in life during the pregnancy.
After going through so much, Michele finally shared her happiness with the world, but the fear of losing her child to miscarriage tore her down emotionally. 
During the live session, Michele tearfully confessed she was almost desperate during her pregnancy. The actress would wake up every day and tell herself she just wanted to be a mom and wanted the time.
Recalling the day her son was born, the actress said holding her baby for the first time was the greatest part of the whole pregnancy. The minute she had him in her arms, she praised him for doing so good.