Dina Manzo's Ex-husband Arrested for Attacking Her Current Husband — Inside Her Personal Life
Dina Manzo's ex-husband Thomas Manzo arrested for May 2017's home invasion.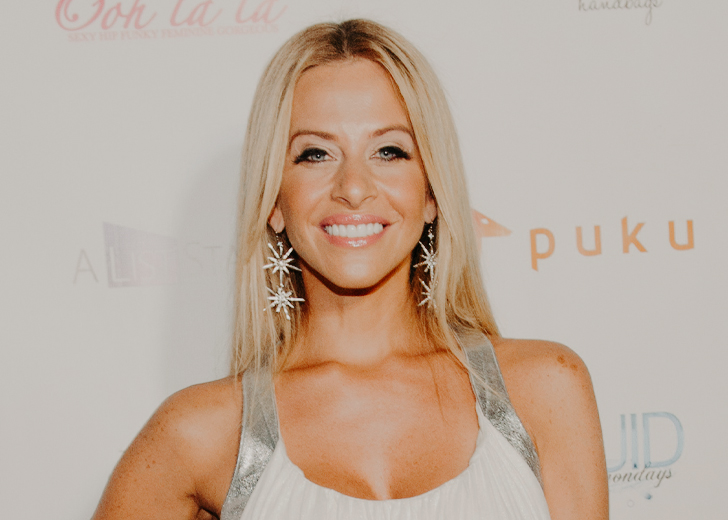 Dina Manzo is a famous actress, television personality, and entrepreneur who is best known for her appearance in the reality show The Real Housewives of New Jersey and her own party-planning HGTV series Dina's Party.
Manzo has also tried her hands on the silver screen and appeared as an actress in movies like Tainted Dreams (2014), Dina's Party (2011), and Teresa Checks (2015).
Besides that, she is an event planner at the Brownstone banquet facilities in Paterson, New Jersey, and runs a charitable foundation, Project Ladybug, which helps children with cancer.
Regarding her personal life, the reality TV star has experienced two failed marriages. But luckily, she met someone who restored her faith in love.
Here learn about her current married life along with the details of her past relationships and a brief bio!
Manzo Is Currently Married to David Cantin
The New York native Dina currently relishes a blissful married life with her husband David Cantin, a millionaire entrepreneur.
The couple tied knots on June 28, 2017 — but they only confirmed the news in May 2019, nearly two years later.
Through an Instagram post, the actress disclosed that she "wore a dress from her closet, an orange blossom in her hair and carried a Calla Lily from her Malibu Garden" at her "simple, meaningful wedding."
"In front of the gorgeous Pacific, surrounded by nature and puppies, they promised to be there in good times and bad," she added.
Manzo and David first met in 2014 at a fundraising event for her own charity, Project Ladybug. After knowing each other for a while, they began dating in 2015.
The two lovers got engaged in 2017, which the actress revealed during her interview with SiriusXM's Jeff Lewis Live.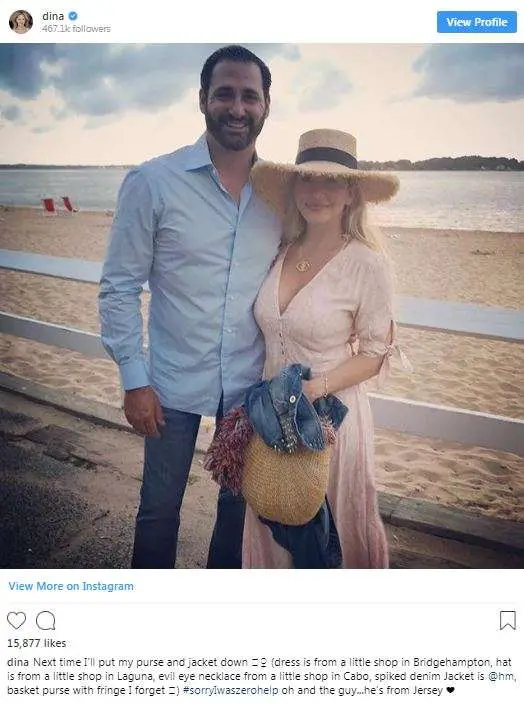 Dina Manzo poses with her husband, David Cantin. (Photo: Dina Manzo's Instagram)
David was also previously married to a woman named Melissa, with whom he separated in 2014. Together, the former couple had two children, both of whom live with Melissa on the East Coast currently.
The commercial broker, David, is a cancer survivor who was diagnosed with leukemia years ago. Now, he's in good health, and this is what bonded the lovers, as Dina had nursed him during his difficult times.
Attacked during a Home Invasion, Recent Reports Show Manzo's Ex-Husband's Involvement
The couple, Dina and David, were attacked during a home invasion at their Holmdel townhouse in May 2017.
According to reports, the actress was pushed against a wall by one of the suspects, who also covered her mouth, threw her to the floor, and kicked her before taking her engagement ring off her finger.
On the other hand, her husband, David, was beaten with a baseball bat and tied up.
The invaders, in total, took away Dina's new $60,000 engagement ring and around $500 in cash.
After some investigation, James Mainello of Bayonne was found to be involved in the home invasion, and therefore, he was arrested in May 2019.
Interestingly, two years later, in May 2021, the investigators uncovered that Dina's ex-husband Thomas Manzo was the person who had planned the invasion.
As of this writing, Thomas is behind bars and will be held in the Monmouth County Correctional Institution in Freehold pending an initial court appearance.
Following that, a detention hearing is expected to take place, too. Later on, if Thomas and James are convicted of the first-degree robbery and second-degree aggravated assault counts, they can face up to 30 years in state prison.
Dina's Second Husband Thomas Blatantly Cheated on Her
Dina tied the knots with her second husband Tommy Manzo, also known as Thomas Manzo, in 2005 in a lavish wedding. Their wedding was also featured on the VH1 reality show My Big Fabulous Wedding.
Their wedding really fitted in the name of the show as they were married in a grand ceremony ahead of 600 guests.
At that time of their nuptials, it was one of the most expensive weddings ever, and it was reported that it cost them more than 1.1 million dollars. Only if their married life topped that!
Dina was aware of her millionaire husband's infidelities and remarkably was also seen in the series remarking about that. However, despite all the signs that their relationship would not sustain, she got married.
But soon enough, she was tired of all the other women in her husband's life and separated from him in October 2012. They officially separated in February 2016.
Meet Dina's Daughter from First Husband
Actress Dina's first husband was a businessman, George Hadjiapostoli. The couple was blessed with a beautiful daughter Lexi Loannou in 1996.
Dina's daughter Lexi is all grown up now. Lexi studied at Fordham University and currently serves as the creator of Shop nou, a jewelry store.
The actress's daughter also relishes a happy relationship with her boyfriend, Tyler Mateen.
Her little daughter has grown up gracefully, and Dina feels proud to be her mom. On her daughter's 21st birthday in 2017, Dina posted a heartfelt message to her on her Instagram.
That little geeky girl with the candy obsession is all grown up and 21 yrs old today. I could go on and on about how proud I am blah blah blah but she already knows all that! Shine on @bohochicken shine on. (Ps No she hasn't had an ounce of plastic surgery, she gets it from her mama) Party tonight in NYC!!! Whoop whoop!!!
While the love and bond between this mother-daughter have only gone up, her daughter could not sustain Dina's marriage with her husband George. The couple divorced shortly after the turn of the millennium.