Aaron Gilchrist Affirmed Getting Married — Is His Husband Marcellius Banks?
Aaron Gilchrist is off the market!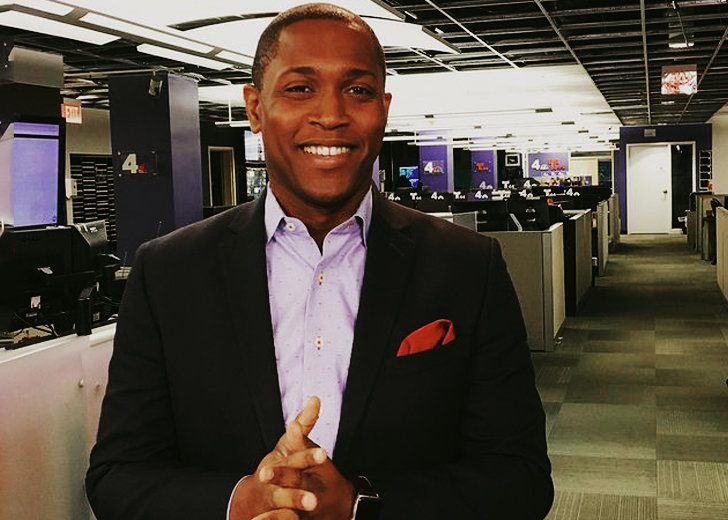 TV news anchor Aaron Gilchrist confirmed he was married while replying to his follower on Instagram in 2019. But he did not dwell further to reveal his husband's name. That being said, there are many hints that Gilchrist's husband is a man named Marcellius Banks.
Wedding Registry Reveals Partner
Speculation regarding Gilchrist's marriage started circulating after he started wearing a ring on his wedding ring finger.
Not long after such stints, his name surfaced on the famous wedding registry site The Knot. The site disclosed the newscaster had tied the knots with Marcellius Banks in Washington D.C. on October 12, 2019.
While the wedding registry hinted at his marital status, the fact wasn't verified until the anchor commented on the topic. On an Instagram post dated October 18, 2019, one of his followers noticed the ring on the finger and asked when he married. Thankfully, Gilchrist replied and stated that he married the previous weekend. 
His statement matched the date of the wedding registry, as 12th October was Saturday. However, he didn't disclose his partner's name. For that part, one of his Instagram followers named Milton Foster congratulated him and Mr. Banks, implying that his partner's second name was Banks.
Another hint suggesting that his partner was indeed Marcellius Banks came in a wedding registry of Banks' sister, Andrei Banks. The wedding planner for August 2019 had mentioned Banks as the best man and disclosed that he was getting married to Aaron Gilchrist.
While all the hints imply that Gilchrist's husband is Marcellius Banks, he has not yet mentioned him, whether on his interviews or social media. 
Was Sarcastic Towards Marriage
If you follow the anchor's social media, you probably know that marriage did not seem to sit well with him. Frequently, he tweeted complaining about why people would spend time and money on weddings. 
He stated that he never understood how people spend more than $39,000 on a single wedding in one of such tweets. In another tweet from 2015, he sarcastically suggested people get married if they want cheaper car insurance. He even backed it with data, "married 20yo pays 21% less than a single person."
40% of couples who got married last year spent $10k or less on their wedding. Avg cost was $26,400. For one day. One day... 😳 — Aaron Gilchrist (@nbcaaron) October 13, 2015
His "Work Wife" Is Eun Yang
If you have seen Gilchrist on TV, you have undoubtedly seen him with Eun Yang. The duo anchored News4 Today's #1morning newscast for the better part of the last decade.
The co-anchors have established themselves as a dedicated team and good friends. So much so, he has referred to Yang as his "work wife" in multiple social media posts.
The anchor left NBC Washington in November 2020 to join NBC News Now. 
As a parting message, he tweeted how he'd always cherish Washington and his family at NBC. Similarly, on Instagram, he posted a series of photos with his co-workers, the latest one being a selfie with the caption "Thanks for the memories!". His "work-wife" commented on the photo, saying, "Don't forget your favorite co-anchor!!" with a crying emoji.