Getting to Know Legacies' Jenny Boyd
Jenny Boyd is best known as Lizzie Saltzman in 'Legacies'. Get to know her age, net worth, family, and brief career so far.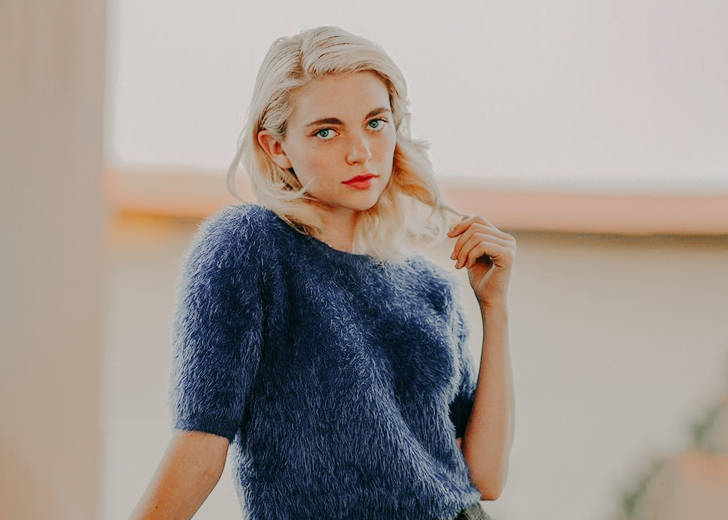 Television actress Jenny Boyd is best known for her roles as Lizzie Saltzman in The CW's fantasy drama series Legacies and Amber Kelly in the horror film Hex.
Legacies — a spin-off of The Originals revolves around vampires and supernatural abilities. The actress has shared the screen with other talented actors like Danielle Rose Russell, Aria Shahghasemi, Quincy Fouse, Matthew Davis, and Kaylee Bryant.
Despite Boyd's brief career so far, her prowess as an actress has earned her a substantial fan following and all-around appreciation.
Boyd's Age & Birthday
Boyd was born on February 27, 1991, in Sion, Switzerland, making her 30-years-old as of this writing. She is a Pisces.
Most recently, on March 1, 2021, the Legacies star took to Twitter to thank everyone who wished her on her birthday. She also gave a special shoutout to all her fans who organized and donated to the charity she had promoted earlier.
"Thank you all so much for my Birthday wishes! I had the best day ever, and a special shout out to all the fans who organized and donated to this amazing charity! You are the greatest," the actress's tweet read.
Early Life and Family
Although Boyd was born in Sion, Switzerland, she did not spend all her childhood there. She initially lived with her parents in Oregon, USA, and later moved to Los Angeles to work independently.
Interestingly, she holds dual English and U.S. citizenship.
The actress seems to be quite close to her family members, which includes her parents, sister Alexandra Boyd, and her sister's partner Robert Guthrie. Her mother's name is Mary Forester.
Alexandra often posts pictures with her actress sister on Instagram, which shows the unconditional love between the two siblings. 
On National Siblings Day Alexandra's post featured a beautifully written note in the caption, which read, "Happy #nationalsisterday to @jenarooski; my best friend and the kindest, gentlest soul I know! Go hug your sister today!"
Similarly, the Viking Quest actress was visited by her sister on the sets of Legacies Season 2 on August 29, 2019. On that occasion, the actress's sister again posted a picture of them and wrote, "with @jenarooski on set for #Legacies Season 2," while mentioning Scottish actor Thomas Doherty who took the snap.
Comparatively, the actress is a little less expressive of her family on social media compared to her sister, but sometimes she takes to Instagram to share her family moments.
On March 30, 2019, Boyd shared a snap with her father where the two were having an adventurous time, skiing on the beautiful mountain passes of Oregon. "Father Daughter Time," she captioned the picture.
Likewise, the actress also traveled to Santa Monica together with her sister and shared an adorable picture from a local amusement park on Instagram, writing, "#sisters #santamonica."
Boyd keeps most of her family details within the family circle. The few things that we know about her family members come through either her or her sister Alexandra's social media.
Boyd's Education
Before life as an actress, the Los Angeles, CA resident traveled worldwide as an international model with Elite Model Management, a celebrity management firm based in New York.
However, later, her passion for acting drove her to the London Academy of Music and Dramatic Art (LAMDA), where she completed her Bachelor's degree in acting.
After her graduation, she took up acting as a full-time career and eventually started appearing in movies and TV shows. 
Her Brief Career: Movies & TV Shows
The actress made her debut on screen in 2015 when she appeared in the lead role of Tasya in the TV movie Viking Quest, a film based on action, adventure, and fantasy. The film also starred Anya Taylor-Joy, Oliver Walker, and Harry Lister Smith in the other lead roles.
Following that, she appeared in the roles of Sonia and Christabel in the short films Clean Sheets (2016) and Sunday Tide (2018), respectively.
The year 2018 also saw the actress playing a significant role in the horror movie Hex. Boyd portrayed the character of Amber Kelly, who is possessed by an evil entity. 
The synopsis of the film on IMDb reads: 
A holiday romance turns into a terrifying nightmare when a backpacker and a young woman become the unwitting playthings of a vengeful and horrific entity.
Breakthrough Project: 'Legacies'
After working on a few acting projects, the actress was cast in the much-talked-about series Legacies, and the rest is history.
It wouldn't be incorrect to state that Boyd's role as Lizzie Saltzman in The CW Network's fantasy drama series Legacies was one of her career's defining moves.
Her Role in 'Legacies':
In the series Legacies, Boyd portrays the character of Lizzie Saltzman, one of the twin daughters of Alaric Saltzman [played by Matt Davis]. Her twin sister, Josie Saltzman, is played by actress Kaylee Bryant.
Lizzie, a Salvatore School attendee, is a narcissistic witch prone to emotional meltdowns. Her character was initially introduced in the series The Vampire Diaries.
While speaking with Seventeen in February 2021, after completing the third season, Boyd shared Lizzie's struggle of making friends and what goes on inside her head.
She explained that Lizzie somehow felt sidelined because she does not have many friends other than her twin sister Josie.
I definitely think Lizzie deep down does feel just sort of sidelined and, ultimately, she doesn't have that many friends other than her sister, MG, and Hope a little bit. But with both Josie and Hope, they get this sort of attention and have the social mobility that she wishes that she could have more of.
But the actress was hopeful that Lizzie will find her way through and get to a comfortable place in her life as the season progresses. In the interview, she hinted, "Lizzie takes on somewhat of a leadership role in later episodes."
"There's kind of an opening there for her to take on a little bit more responsibility within the Super Squad and within the school in general. She's sort of trying to step up and do her best as the daughter of the Headmaster and play her part," the actress added.
About the Series 'Legacies': 
The series Legacies is a spin-off of The Originals — the latter which is also a spin-off of the hit series The Vampire Diaries. Therefore, Legacies features characters from both The Originals and The Vampire Diaries.
Actress Danielle Rose Russell appeared as the 17-year-old Hope Mikaelson, extending the role that originated in the fifth and final season of The Originals. Similarly, actor Matt Davis also reprised his role as Alaric Saltzman from The Vampire Diaries, playing a prominent part in the series.
Other actors in the series include Aria Shahghasemi, Quincy Fouse, Kaylee Bryant, Peyton 'Alex' Smith, Chris Lee, Demetrius Bridges, and Ben Levin, amongst many. The series is created by Julie Plec.
The first season of Legacies premiered on October 25, 2018, followed by its second season on October 10, 2019, and third season on January 21, 2021. The CW Network renewed the series for a fourth season in February 2021.
Boyd's Net Worth
Being one of the leading stars of the successful franchise-based series Legacies, the actress is sure to earn a healthy amount.
Although the actress herself has not talked about her salaries or net worth, in general, many outlets have reported her earnings from the show Legacies along with her total net worth to date.
In February 2021, the YouTube channel Movie Raze reported that Boyd earns something in between $10 to $12 thousand dollars per episode of Legacies. The talented actress has appeared in 37 episodes so far.
The report further stated that the Hex star has a net worth of around $400-450 thousand dollars.
With the pace she has been paving her career, it is certain that she will be adding more bucks to her purse.