Is Steven Seagal Still Alive? The Truth behind His Whereabouts Today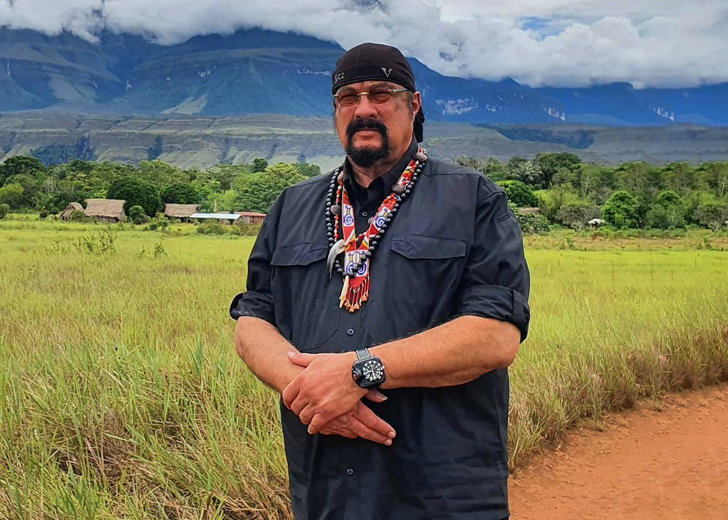 Hollywood has produced all kinds of celebrities, but there was no one quite like Steven Seagal.
According to rumors, the actor got a foothold in the industry thanks to a bet made by Hollywood super-agent Michael Ovitz. 
Ovitz used his connections and favors and ended up putting the "uncharismatic and talentless" guy he knew on billboards.
In the early 90s, action movies were one of the most popular genres. 
And Seagal, a trained martial art expert, saw an opportunity and released back-to-back action movies like Hard to Kill, Above the Law, and Under Siege. 
The audiences loved seeing Seagal in fight scenes, speedy car chases, and high-risk situations. 
As a result, he ruled the box office for many years, even though critics claimed his acting skills were not up to par with Hollywood standards.   
Unfortunately, audiences' tastes changed, and the action film star career shifted almost entirely to direct-to-video productions. 
But even then, his movies were not doing well, and eventually, the movie star faded into prominence. 
Is Steven Seagal Still Alive Today?
After Seagal disappeared from the silver screens, fans wondered if he was even alive. 
The actor is still alive, and even after his career came to a standstill, Seagal continued releasing movies.
Reports claimed that he had released over 30 movies in less than 20 years. 
Seagal also starred in a reality show which was like Cops.
In 2009, A&E debuted Steven Seagal: Lawman, a reality show that saw the actor follow and observe cops who investigated local crimes from a safe distance.

Steven Seagal and Sylvester Stallone (Source: Steven Seagal/Instagram)
But Seagal was not done fighting bad guys and hanging out with the cops. 
In 2011, he created and starred in a TV show called True Justice as Elijah Kane, head of an elite undercover Seattle task force. 
Besides being an actor and making films, Segal was also a businessman with various ventures. 
He owned a lavender farm where he grew the raw materials for Diamond Lotus Essentials, a line of "therapeutic oils."
The actor also launched Steven Seagal's Lightning Bolt, a line of canned energy drinks with flavors that include Cherry Charge, Root Beer Rush, and Asian Experience.
Steven Seagal's Sexual Assault Cases
In October 2017, Seagal made headlines again, but it had nothing to do with movie releases.
After many women came out and spoke against Harvey Weinstein, ladies followed suit and spoke against Seagal. 
One of them was Lisa Guerrero, an Inside Edition correspondent who shared that she was called for a "private rehearsal" to Seagal's Beverly Hills mansion.
Guerrero declined, and the female lead for 1997's Fire Down Below went to someone else.
However, she was given a small role, and the correspondent took it because she wanted it on her resume.
During filming, Seagal invited her back to his dressing room, but she rejected him again. 
Unfortunately, her role in the film was completely cut off because of her rejection. 
Television personality Jenny McCarthy also spoke out, claiming that Seagal asked her to take off her dress during an audition for Under Siege 2.
Seagal denied both allegations.