Heidi Klum's Daughter Leni Is Following Her Famous Mother's Footsteps into the Fashion Industry
Heidi Klum's daughter Leni at 17 is on her way to reaching supermodel status.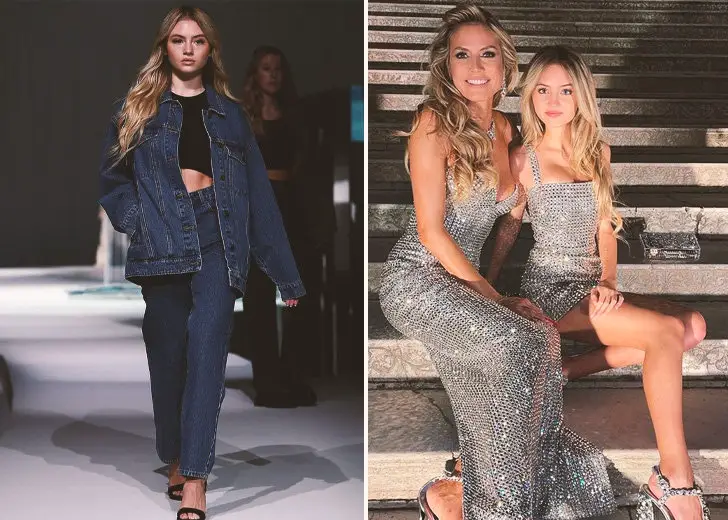 With more than 1 million followers on her Instagram, Leni Klum, the daughter of German supermodel Heidi Klum, has become popular ever since her first appearance on the cover of Vogue Germany in January. 
The 17-year-old young model established her fashion credentials when she appeared in Hunger magazine, wearing Moschino, Alex Perry, and Redemption designs.
Following her mother's footsteps, Leni has already started receiving spotlights on popular runways. She has walked the virtual runway for Berlin Fashion week and other big names in the fashion industry, like Dolce and Gabbana.
Leni was born in New York on May 4, 2004, to Victoria's Secret angel and Project Runway host Heidi Klum. Her biological father is Flavio Briatore, an Italian business manager who is the managing director of Renault's Formula One team.
Flavio did not play an active role in his daughter's life, and Leni was adopted by her stepfather, Seal, who was married to her mother at the time of her birth. 
Leni Klum Aspired to Model since Her Childhood
The younger Klum had always aspired to become a model. During her interview with Vogue in December 2020, Leni said it was only a matter of time before she would try to become a model herself.
She was only 12 when she received an offer to model for Brandy Melville, a fashion brand she loved wearing for a long time. Leni begged Heidi to allow her to model, but mother Klum calmly denied her request stating that it was too early for her to model. 
Heidi called it "a good age" to start modeling. "If you are allowed to drive a car, you can also have an official Instagram account and show your face. And to be allowed to start with a Vogue cover is an insane privilege."
Following Mom Heidi Klum's Footsteps
Daughter Leni is happy that she waited until she was 17 to finally start navigating through the industry and says that Heidi is really supportive of her career now.
In fact, the emerging model made her fashion debut with her mother on the cover of The January/February issue of Vogue Germany. "I'm so happy that we finally arrived, and she's old enough and can do this. She's 17 now," Heidi said of watching Leni model, "I was kind of giving the baton to her."
She expressed her contentment watching Leni, as it felt like watching herself from the past. On the other hand, Leni said that she enjoys being a model because, unlike other jobs, she does not have to suppress her real nature to make a professional impression.
"As a model, I can let everything out and just be who I am. The job is the perfect outlet for all the energy I carry inside me," she shared. "That's what's great about being a model."
Leni had made her runway debut at Berlin Fashion Week in January 2021 before securing her first solo magazine cover on Glamour Germany.
"Thank you to everyone who made my first solo cover so special," Leni wrote on Instagram. "It's an honor to share this with my mama @heidiklum who was Glamour Germany's first-ever cover model."
Leni was headlined in the famous magazine precisely 20 years after her supermodel mom was featured in the publication's inaugural issue of 2001.