How Katherine Langford And Josephine Langford Are Minding Their Own Business?
In this article, we'll go through some impactful points to know how Katherine Langford and Josephine Langford are minding their own business for good reasons.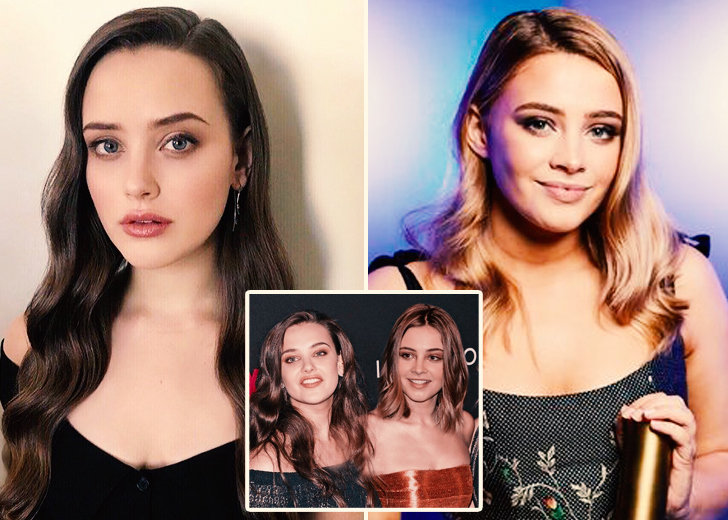 The show biz world introduces us with many talented, alluring, passionate, and aspiring new faces from every corner of the world in the form of actors and actresses each day.
In the quest to achieve limelight, some of those aspiring talents succeed fulfilling their dreams while some fail to do so.
And amongst the successors, two Australian actresses, Katherine Langford And Josephine Langford—who are also siblings—have been making a good name for themselves through their works in movies and TV shows.
However, the two have hardly advertised each other's work, neither they've publicly appeared together despite their common profession.
Because of that, there have been numerous speculations on the feud between the Langford sisters. In this article, we'll go through some impactful points to know how Katherine Langford and Josephine Langford are minding their own business for good reasons.
They are Focused on Their Respective Career
Katherine Langford (born 1996) and Josephine Langford (born 1997) have been working on the entertainment industry for a while now.
Josephine's Career
Precisely, the younger Langford, Josephine, started her career earlier than her elder sister, Katherine. She worked in short movies such as Sex Ed, When Separating, and Gypsy Blood from around the age of 14.
And when she was in her early 20s, Josephine made her film debut in the Australian fantasy drama movie Pulse in 2017.
In the same year, she also starred as Darcie Chapman in the horror movie Wish Upon, alongside actors such as Ryan Phillippe, Joey King, and Shannon Purser.
In 2019, the younger Langford junior appeared in her most successful and well-acclaimed film named After in 2019. In the romantic drama, she played the female lead role of Tessa Young alongside actor Hero Fiennes (Tiffin).
Her role in the film even helped the Perth native win 'Teen Choice Awards' and 'Just Jared Jr's Fan Awards' in 2019.
Katherine's Career
In the case of Katherine, she started her acting journey around the age of 19, working in small independent films such as Story of Miss Oxygen, Imperfect Quadrant, and Daughter.
Following that, she made her breakthrough in the television with her debut role as Hannah Baker in Netflix's mystery drama series 13 Reasons Why in 2017 at the age of 21.
Elder Langford's exceptional portrayal of teenage Baker's loneliness and depression received critical acclaims. She received the 'Golden Globe Award' nomination for the role and went on to work in other well-known on-screen pr such as Love, Simon, Knives Out, and Cursed.
Both Hasn't Used Each Other's Name to Earn popularity
Usually, we see people take help (advantage) through the popularity of their close ones to either gain riches or simply to get popular themselves. But the Langford sisters are different.
Both of them have never used each other's name to catch the eye of media or to seal their opportunities in certain projects.
Not just that, the Australian natives even haven't posted or shared any pictures of themselves together and also haven't appeared in the public functions together.
Simply, their individual success and popularity, and their well-managed distance from each other's fame show that people could pursue an independent career in the entertainment world without leeching in the fame of a famous family member.
They've Stayed Out of Controversy
Even though there have been rumors about their differences and feud every day, the Langford sisters have overlooked the unhealthy speculations, and thus, stayed out of controversies.
For instance, Katherine once (during an interview with the French publication L'Officiel in May 2018,) stated that no one in her family was in the entertainment industry. That statement spread like fire since everybody knew that her sister Josephine was an actress too.
Although Katherine never really explained the reason why she made such a misleading statement, Josephine came in front to clear the air.
The Langford junior told Refinery 29 magazine in April 2019 that people often manipulate with the "limited content of someone," which does no good to anyone.
Josephine further added, "We both got into acting on our own, completely separately, with nothing to do with the other one. We both grew up in this family, with parents that weren't particularly creative, and we're both interested in creative things."
Appreciated Each Other's Work
The Langford sisters started, continued, and carried on to their respective careers on their own.
But when it comes to appreciating good work, the two have not missed out on wishing good or talking about each other's works.
Speaking to JustJared Jr. in November 2019, Katherine suggested that she had a series of films to catch up, including Josephine's romantic-drama movie After.
"It's so bad! I have so many films that I need to watch right now, and I have a bunch of them on my list, so yeah, I'm going to get to it," she said.
Similarly, Josephine also causally appreciated her sister while speaking to Refinery 29. She said she was willing to work together with her elder sister.
She further explained that any project hadn't popped up in her emails, but she would be fine and would love to work with her sister in the future.
Now, what do you make of the relationship that Aussie sisters, Katherine Langford and Josephine Langford, share?